Building permits rise — better times ahead?
The number of permits for new homes issued in February was the highest since October 2008. Housing starts declined slightly from January.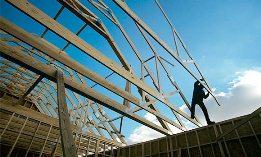 Builders started construction on fewer new homes in February, but pulled more construction permits, indicating that the housing market may be inching out of the doldrums.
The number of building permits issued in February rose 5.1%, equivalent to an annual construction pace of 717,000 homes. That's the highest number since October 2008 and 34.3% above last February's number.
According to the Commerce Department, the number of housing starts fell 1.1% from January, to a rate of 698,000 homes. That was an increase of 34.7% from last February's pace.
Post continues below
"Builders are reporting increased buyer interest and are expecting demand for new homes to improve in the coming months, but continue to exercise caution regarding new projects until that interest translates into more signed sales contracts," Barry Rutenberg, chairman of the National Association of Home Builders and a homebuilder from Gainesville, Fla., said in a news release.
He cited three ongoing challenges for new-home sales: tight lending conditions, the difficulty of obtaining accurate appraisals and competition from distressed properties, which makes it harder for homeowners to sell existing homes and buy new construction.
Looking at the statistics by region:
Midwest: Housing starts up 3% and permits up 14.7%.

South: Housing starts up 1.5% and permits down 1.9%.

Northeast: Housing starts down 12.3% and permits up 14.3%.

West: Housing starts down 5.9% and permits up 12.8%.
Analysts joined the builders in expressing cautious optimism for better times ahead.
"The housing market continues to recover at a very gradual rate," said Sal Guatieri, an economist at BMO Capital Markets, to Bloomberg. "The increase in permits likely flags further strength in the months ahead."
FIND YOUR DREAM HOME OR APARTMENT
msn real estate is social
WHAT'S YOUR HOME WORTH?
HOME IMPROVEMENT PROFESSIONALS
more on msn real estate