Builder optimism at 5-year high
Challenges remain for the new-home market, including credit difficulties for both builders and buyers plus appraisal issues.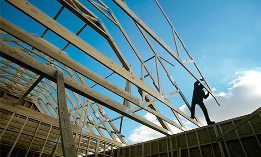 Builder confidence reached a five-year high in August, as builders continued to feel more optimistic about the market for new single-family homes.
The National Association of Home Builders/Wells Fargo Housing Market Index rose two points from July, to 37, the highest level since February 2007.
"From the builder's perspective, current sales conditions, sales prospects for the next six months and traffic of prospective buyers are all better than they have been in more than five years," Barry Rutenberg, chairman of the NAHB and a homebuilder from Gainesville, Fla., said in a news release. "While there is still much room for improvement, we have come a long way from the depths of the recession, and the outlook appears to be brightening."
Builders broke ground on 23.6% more homes in June 2012 than they did in June 2011, which has contributed to their optimism. Construction numbers for July are expected Thursday.
The index measures builders' feelings about current single-family home sales as well as projections for the next six months. An index of 50 means that more builders see the outlook as good rather than as poor.
The prospects for new-home sales have been buoyed by the rise in prices of existing homes and the shortage of inventory in many cities. But the industry also faces some formidable challenges, including problems getting credit both for builders and for prospective homebuyers.
Getting accurate appraisals for new homes is also a challenge. The small number of new homes sold means there are few comps (comparable properties) to use in calculating property value, and the large number of distressed properties sold drags down the values of existing homes used in the calculations.
"This fourth consecutive increase in builder confidence provides further evidence of the gradual strengthening that's occurring in many housing markets and providing a needed boost to local economies," NAHB chief economist David Crowe said in a news release. "However, we are still at a very fragile stage of this process, and builders continue to express frustration regarding the inventory of distressed properties, inaccurate appraisal values and the difficulty of accessing credit for both building and buying homes."
About Teresa Mears
Teresa Mears is a veteran journalist who has been interested in houses since her father took her to tax auctions to carry the cash at age 10. A former editor of The Miami Herald's Home & Design section, she lives in South Florida where, in addition to writing about real estate, she publishes Miami on the Cheap to help her neighbors adjust to the loss of 60% of their property value.
msn real estate is social
FIND YOUR DREAM HOME OR APARTMENT
WHAT'S YOUR HOME WORTH?
HOME IMPROVEMENT PROFESSIONALS
from our partners