Listing of the Week: Presidential home, circa 1978
Gerald and Betty Ford's California home, still decorated the way they had it in the 1970s, is offered for sale for $1.699 million.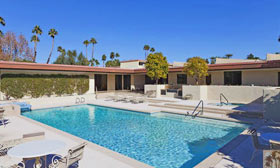 The home that Gerald and Betty Ford had built in Rancho Mirage, Calif., after his presidency is up for sale following Betty Ford's death last July.
The asking price is $1.699 million for the five-bedroom, seven-bath ranch-style house.
The house is still decorated the way the Fords had it in the 1970s. Their taste was simple, and the home clearly was built for family gatherings, not big parties, listing agent Nelda Linsk told The Desert Sun.
"They were very private people," Linsk told the newspaper. "They didn't want anything showy."
Post continues below
The house has 6,316 square feet on 1.37 acres overlooking the golf course at the Thunderbird Country Club. It has his and hers offices and a locker room adjacent to one bathroom so Ford could enter from the golf course without going through the house. It also has a pool where the late president used to swim laps.
The listing says the house was designed by famed Los Angeles midcentury architect Welton Becket, known for the Capitol Records Building, the Santa Monica Civic Auditorium and the Beverly Hilton Hotel. Beckett and his firm also worked with Walt Disney on the design of Disney World and other projects.
But Becket died in 1969, which means the Fords' house might have been designed by either his son, Welton Beckett II, or the firm that continued to bear Becket's name after his death.
An adjacent 5,284-square-foot house, where the Secret Service once lived and which was once owned by Ginger Rogers, was subsequently sold to the University of Southern California. It is now on the market for $509,000, which Linsk said reflects the land value.
The Fords' four children plan to auction off the furniture and personal effects later this year. In the meantime, if you want to see photos, The Desert Sun has a slide show.
Here is how Desert Sun reporter Erica Felci described the home
The home is essentially furnished the same way it was when the Fords moved there in 1978, with an array of floral patterns in the bedrooms and coordinating lime and avocado fabrics in the dining and great rooms. …

There are no fancy entertainment centers or theater rooms. The kitchen is spacious and has some modern upgrades, but there isn't a gleaming industrial-style stove or granite counters.

There's a standard, unremarkable television in the president's office, next to a well-worn blue leather chair and ottoman.
FIND YOUR DREAM HOME OR APARTMENT
msn real estate is social
WHAT'S YOUR HOME WORTH?
HOME IMPROVEMENT PROFESSIONALS
from our partners