Housing starts plunge to near-record low
Competition from distressed properties, job insecurity and tight financing are keeping the demand for new homes way below a healthy level.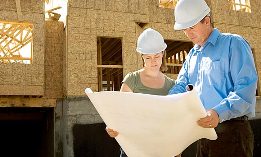 Housing starts in February plunged to their lowest level in nearly two years, another sign the housing market has a long way to go to recover.
The slight increase in builder optimism reported Tuesday may have been just wishful thinking. The number of housing starts in February was down 22.5% from January, the biggest decline since March 1984, for an annual rate of 479,000. That was the lowest since April 2009, when the number of housing starts hit a record low of 458,000. A rate of about 1 million housing units a year is considered healthy.
Building permits, which indicate future construction, did hit a record low, and were down about 20% from February 2010.
The February figures followed an uptick in housing starts in January, led by multifamily construction.
"Demand for new construction has remained weak," Michelle Meyer, a senior economist at Bank of America Merrill Lynch Global Research, told Bloomberg. "Until we see a sustained turn in the labor market where people perceive job security, it's going to be a slow process for a recovery in housing demand."
Post continues below video
The multifamily market, which appeared to provide a ray of hope in January, plunged 46% in February, to an annual rate of 104,000. The number of single-family housing starts fell 12%, to an annual rate of 375,000.
Declines were reported in all four regions: 49% in the Midwest, to a record low; 38% in the Northeast; 28% in the West; and 6.3% in the South.
It's no surprise that new construction is limping along. New homes are competing with distressed properties, and foreclosures are continuing to dump more properties onto the market. Job insecurity and the expectation that prices will fall further are keeping buyers on the sidelines. Families who do try to buy a home are finding it more difficult to get financing.
Those aren't good signs for a resurgence in home building any time soon.
"At this point, new homes are likely to continue to lose to existing homes, because distressed properties pose a better bargain for buyers," Millan Mulraine, a senior strategist at TD Securities in New York, told Bloomberg.

As a professional advisor reviewing the market after the crash predicted that the real market would remain low as well as interest rates until true recovery can begin.  The recovery isn't even half way there yet, unemployment is still plaguing the market and economy and creating more uncertainty with buyers.  Also the new tighter rules have made purchasing more of a challenge for first time home owners.  Hopefully we will see some kind of positive up swing and possible growth in another couple years.
Are you sure you want to delete this comment?
About Teresa Mears
Teresa Mears is a veteran journalist who has been interested in houses since her father took her to tax auctions to carry the cash at age 10. A former editor of The Miami Herald's Home & Design section, she lives in South Florida where, in addition to writing about real estate, she publishes Miami on the Cheap to help her neighbors adjust to the loss of 60% of their property value.
msn real estate is social
FIND YOUR DREAM HOME OR APARTMENT
WHAT'S YOUR HOME WORTH?
HOME IMPROVEMENT PROFESSIONALS
from our partners