Listing of the Week: Hemingway's boyhood home
The house that the writer's mother had built in 1906 is now three apartments. The home had room for Hemingway's mother to teach music and for his physician father to see patients.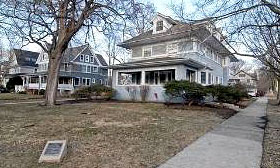 If you're looking for literary inspiration, perhaps you'd be interested in our Listing of the Week.
Writer Ernest Hemingway slept here, throughout most of his childhood and after he came back wounded from World War I. After giving up on a plan to turn the 4,200-square-foot Prairie-style house near Chicago into a learning center, the Ernest Hemingway Foundation of Oak Park is offering the home for sale for $525,000.
Built in 1906 by Hemingway's mother, Grace, the house is currently split into three units, all rented. It has six bedrooms, three full baths and two half-baths, as well as a detached, four-car garage. The tenants pay $1,500, $1,400 and $700 for rent, while paying their own utilities.
Post continues below
According to the listing, "this home was a place of art and entertainment where Hemingway began writing and developing his craft."
Grace Hemingway worked with architect Henry G. Fiddelke, a contemporary of Frank Lloyd Wright, to design the home after her father left her an inheritance. She worked as a music teacher, and Ernest's father, Clarence, was a doctor, and the home was designed to  accommodate those businesses.
The Hemingways moved into the house in 1906, when Ernest was about 7. The new home was near the Oak Park home where Ernest was born. That house is now a museum.
An article at The Literary Traveler talks about the 1906 house:
In 1905 an important event took place in the Hemingway family. Ernest Hall passed away from Bright's disease. With the inheritance Grace received, she decided to sell the house where she had lived with Clarence for nine years, and design and build herself a new one. The main reason for this appears to be that she wanted a bigger house and she needed more room for her musical teaching. The new house would have a stucco exterior, eight bedrooms, medical offices for Clarence and a large music room. It was eventually built in 1906 on the corner of 600 North Kenilworth Avenue and Iowa Street. When they moved into the house in August, Clarence had a tin box of family artifacts sealed into the hearth by a mason. The family had a small gathering and they sang, "Blest be the tie that binds."

Arguably the most impressive feature of the house was Grace's new music room. It was 30 feet square by 15 feet high. The room had a small balcony, and there was a raised platform for her students to perform on, which stood beside her new Steinway piano. As Ernest got older, he would sneak his friends into the room for boxing matches.

On the other side of the house was Clarence's office, where he saw patients. The library of the house was used as a waiting room; this was where Clarence kept stuffed examples of his small-animal taxidermy, like raccoons, squirrels and chipmunks.
"The building was built originally as a glorious home for entertaining," listing agent Steve Scheuring told The Chicago Sun-Times. "Ernest's mother was really the one that took charge in assisting the design of the home. It once had a music room off the north side and she held music events in the home while the front two rooms off the entry foyer were his father's physician offices."
FIND YOUR DREAM HOME OR APARTMENT
msn real estate is social
WHAT'S YOUR HOME WORTH?
HOME IMPROVEMENT PROFESSIONALS
from our partners