Housing prices rose 7.3% in 2012
The latest Case-Shiller numbers show that prices rose in 19 of the 20 cities tracked in 2012. Increases ranged from 2.2% in Chicago to 23% in Phoenix.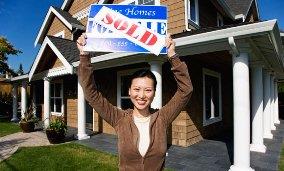 In another sign the housing market is healing, Case-Shiller reports that home prices rose 7.3% nationwide from the end of 2011 to the end of 2012.
Of the 20 cities tracked by the S&P/Case-Shiller Home Price Indices, 19 showed an increase in home prices between December 2011 and December 2012. The exception was New York City, where prices fell 0.5%. Case-Shiller's 10-city index showed prices up 5.9%, and the 20-city composite found prices up 6.8%.
While the data look good, prices are still 29% below the peak in 2006. And Case Shiller's David Blitzer warned that price increases are likely to slow.
"These movements, combined with other housing data, suggest that while housing is on the upswing, some of the strongest numbers may have already been seen," Blitzer, chairman of the index committee, said in a news release.
The 19 cities where prices increased showed gains ranging from 2.2% in Chicago, which has lagged on most indicators, to 23% in Phoenix, which has shown double-digit improvement for the past eight month.
The year-over-year increases of 9.9% in Atlanta and 13.6% in Detroit were the two cities' best showings since 1991, as far back as the indices have calculated. The increases in Dallas (6.5%), Denver (8.5%) and Minneapolis (12.2%) were the largest annual increases in those cities since 2001.
"The improvement over varying parts of the country suggests that portions of the country which were previously lagging on the home-price recovery front have joined in the improvement," Gennadiy Goldberg, a strategist at TD Securities, wrote,
according to MarketWatch
. "Recovering home values will likely continue to help holders of underwater mortgages, with more homeowners becoming eligible for refinancing at lower mortgage rates. This in turn, will allow more money to be freed up for spending by consumers — a positive for the economy going forward."
The cities posting the largest annual gains in home prices were:
Phoenix: 23%.

San Francisco: 14.4%.

Detroit: 13.6%.

Las Vegas: 12.9%.

Minneapolis: 12.2%.
The cities showing the lowest rates of price growth in 2012 were:
New York: down 0.5%

Chicago: up 2.2%.

Cleveland: up 2.9%.

Boston: up 3.6%.

Charlotte, N.C.: up 5.3%
FIND YOUR DREAM HOME OR APARTMENT
msn real estate is social
WHAT'S YOUR HOME WORTH?
HOME IMPROVEMENT PROFESSIONALS
more on msn real estate