Zillow: No housing bottom before 2013
Home prices won't fall as fast this year as they did in 2011, and some cities will do much better than the national average, company predicts.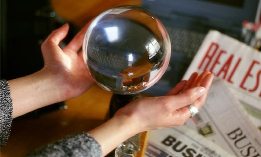 Zillow has taken out its crystal ball and made some predictions on where the housing market will go this year.
The real-estate company sees home values continuing to fall in 2012, but not as much as they did in 2011. Overall, Zillow predicts a national decline of 3.7% this year, compared with 4.7% last year.
It forecasts that we won't see a national bottom for housing prices until 2013.
Post continues below
But the trend won't be the same in all areas. Of the 25 largest metropolitan areas Zillow tracks, 14 will perform better than the national average and 11 will do worse, it predicts.
The new Zillow Home Value Forecast makes its predictions not by using a crystal ball but by analyzing data from past home-value trends and current data such as home sales, housing inventory and unemployment.
Small increases in home values are predicted in five markets during 2012:
Washington, D.C., 1.3%.

Los Angeles, 1.2%.

Phoenix, 0.6%

Riverside, Calif., 0.3%.

Baltimore, 0.1%
Miami-Fort Lauderdale is expected to remain stable, with Pittsburgh, San Francisco, San Diego and Dallas-Fort Worth expected to show price declines of less than 1%.
The greatest decreases in home values are predicted in:
Atlanta, 8.5%.

Chicago, 7.6%.

Seattle, 6.9%.

Cleveland, 5.5%.

Sacramento, Calif., 5.5%.
"While we forecast only two markets to end the year higher than they started, most will see better trends over the course of the year," wrote Stan Humphries, Zillow's chief economist. "Negative equity will continue to cast a long shadow over the real-estate market, keeping foreclosure rates elevated and keeping a firm lid on significant home-value growth even once values have bottomed in 2013." 
FIND YOUR DREAM HOME OR APARTMENT
msn real estate is social
WHAT'S YOUR HOME WORTH?
HOME IMPROVEMENT PROFESSIONALS
more on msn real estate