Updates: Versace mansion price chopped, Wright house saved
One of the country's most expensive real-estate listings saw its price cut to $100 million. The Phoenix Wright home found a buyer. And it's now legal to park a pickup in a Miami suburb.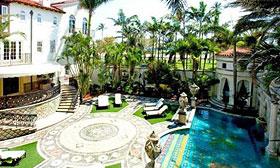 Here are updates on three stories we've written about.
The asking price for Casa Casaurina, the Miami Beach home of the late fashion designer Gianni Versace, has been cut from $125 million to $100 million. Listing agents also produced a new video.
Versace was shot to death in front of the home, which most recently has been operating as a boutique hotel. Versace paid $2.95 million for the property in 1992 and spent $33 million on renovations. The current owner paid $19 million for the mansion, which is across the street from the Atlantic Ocean.
Listing agent Jill Eber said the owner decided to lower the price coming into South Florida's biggest real-estate selling season.
A mystery buyer has agreed to pay the $2.37 million asking price in cash for the home designed for Frank Lloyd Wright's son in Phoenix, which faced the threat of demolition. The sale has not yet closed, but the city of Phoenix agreed to delay a decision on historic designation for the property until the new owner can weigh in.
The home is in good shape for a Wright home built in 1952, according to experts interviewed by The Arizona Republic, but it still may need about $300,000 in work, including a new roof and repairs to the concrete slab and walls.
After 52 years, residents of the Miami suburb of Coral Gables will be able to park pickup trucks in their driveways and on the streets in front of their homes. About 57% of the city's voters on Tuesday approved a measure lifting the ban. Trucks with lettering on them are still forbidden, and truck beds have to be empty.
Resident Ani Victoriano, who had worked for repeal of the ban, told The Miami Herald, "We're planning a tailgate party within the next couple of weeks."
FIND YOUR DREAM HOME OR APARTMENT
msn real estate is social
WHAT'S YOUR HOME WORTH?
HOME IMPROVEMENT PROFESSIONALS
more on msn real estate