Listing of the Week: Garrison Keillor's log retreat
Radio host and his son turned Swedish settlers' cabins into modern-day homes. The Wisconsin woods helped the writer appreciate winter.
Do you want to live at Lake Wobegon, where you can ice-fish in the winter and enter tomato-growing competitions in the summer?
You can't, of course, really live at Lake Wobegon, Minn., which comes from "Prairie Home Companion" creator Garrison Keillor's imagination.
You can, however, buy the riverfront compound where Keillor used to live and did some of his writing. The four-building compound, nestled in 11 acres of woods, has a certain rustic Lake Woebegonlike quality. Asking price is $995,000.
Post continues below
The compound isn't in Minnesota, however, but along the St. Croix River in Wisconsin, about an hour from Minneapolis-St. Paul.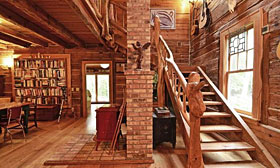 The property includes a main log home, a log guest house, a studio and a writer's cottage. The main house and guest house were reassembled by Keillor and his son, Jason, from three Swedish settlers' cabins on the property.
Keillor bought the property in the early 1990s, planning to live there permanently, he told The Star-Tribune of Minneapolis. "It was a whole country life that I imagined," he told the newspaper. "Then I woke up here this summer and realized I was not going to live there."
The radio host, 69, divides his time between a home in St. Paul and a place in New York City. His son Jason Keillor, wife Tiffany Hanssen and their two sons, 9 and 11, have been living on the property, but now that the sons are older, the family wants to live closer to the city.
If you like the log-cabin look, modernized for today, this might be your kind of place. The photos show wood floors, wood cathedral ceilings, built-ins, decks and a big clay tennis court. In keeping with the Scandinavian heritage of the area, it also has saunas.
Keillor says that living in the woods helped him appreciate winter. He told The Star-Tribune:
"Whenever it snowed it was beautiful beyond words. It really was. I remember walking down the long driveway with the snow falling, with cast members from New York, and it was like a scene out of a Russian novel with the snow falling and people in long coats with their arms around each other. There's nothing like having a little piece of woods to really experience fall, winter and spring."
FIND YOUR DREAM HOME OR APARTMENT
msn real estate is social
WHAT'S YOUR HOME WORTH?
HOME IMPROVEMENT PROFESSIONALS
from our partners
more on msn real estate