Are Seattle's iconic houseboats on the way out?
New rules could doom 'houseboats' while sparing 'floating homes.' The state argues that the waterfront is for public recreation, not private dwellings.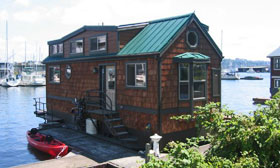 The days may be numbered for some of Seattle's iconic floating abodes, like the one made famous as Tom Hanks' home in "Sleepless in Seattle."
To comply with state law, the city is updating its rules for shorelines, including those for houseboats and floating homes. The rules under consideration could make about 150 of the city's 600-plus floating dwellings illegal. That's a problem for owners who bought their floating abodes with the expectation they were as permanent as houses.
Post continues below
"In a worst-case scenario, (it) may leave me bankrupt and homeless," Stephen Bimson, who paid $250,000 for his 850-square-foot houseboat in 2011, told The Seattle Post-Intelligencer. "In a best-case scenario, it will significantly impact my entire life savings."
The dispute has been going on for several years, as Seattle has sought to comply with state rules that favor using the shoreline for public recreation, not for private homes. While some of the city's floating dwellings are hooked up to sewer lines, others are not, meaning gray water goes into the lakes where they are moored.
While all the floating houses may look the same to us, the new rules may make a significant distinction between a houseboat – which in theory can move – and a floating home, which is basically a house built on a floating platform that can't go anywhere. A Florida case over whether a vessel is a houseboat or a floating home is pending in the Supreme Court.
As the Post-Intelligencer explains, floating homes are regulated by city building and land-use codes and must be hooked up to a sewer line. These dwellings are likely to be allowed under the new rules.
But the houseboats, whose owners have declared them to be boats, not houses, don't have to comply with building codes, even if they're approaching McMansion size and are larger than would be allowed if they were floating homes. Plus, they aren't hooked up to the sewer. About 150 of these dwellings could be declared illegal and forced to move.
The city is scheduled to present a new set of rules next week.
Some city officials have suggested giving all current water residents an amnesty while barring new floating homes, but the state vetoed that idea.
"A huge contingent of people don't want to see private people taking over public space," City Councilman Richard Conlin told The Seattle Times.
FIND YOUR DREAM HOME OR APARTMENT
msn real estate is social
WHAT'S YOUR HOME WORTH?
HOME IMPROVEMENT PROFESSIONALS
more on msn real estate