Existing-home sales at highest level in 3 years
The number of homes for sale continues to fall, and the median price continues to rise. Distressed sales are making up a smaller proportion of deals.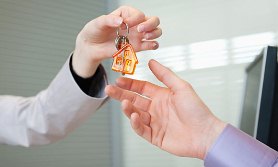 Sales of existing homes continued to rise in November, hitting their highest level in three years.
At the current pace, 5.04 million existing homes would be sold in 2012. That's up 14.5% over last November, the National Association of Realtors reported.
Sales were up 5.9% percent from October. The national median home price was $180,600, up 10.1% from a year ago. November marked the ninth month of year-over-year price increases.
Post continues below
"Momentum continues to build in the housing market from growing jobs and a bursting out of household formation," Lawence Yun, the NAR's chief economist, said in a news release. "With lower rental vacancy rates and rising rents, combined with still historically favorable affordability conditions, more people are buying homes."
The number of homes for sale continued to fall, which is likely contributing to price increases. In November, 2.03 million existing homes were listed for sale, enough to last 4.8 months at the current sales rate and 22.5% fewer than last year. A six-month supply is considered a balanced market.
The last time fewer existing homes were for sale was December 2001, and the current supply is the lowest since September 2005, when there was a 4.6-month supply for sale.
First-time buyers made up a smaller proportion of all buyers than they did a year ago -- 30% versus 35%. The investor share remained the same, at 19%. That suggests move-up buyers are inching back into the game. All-cash sales accounted for 30% of sales, up slightly from 28% last November.
The percentage of sold homes that were distressed sales stood at 22%, down from last November's 29%. Yun predicted the percentage of distressed properties, which usually sell at a discount, would fall into the teens next year.
"Existing-home sales have improved this year," Joseph Trevisani, the chief market strategist for Worldwide Markets, told Reuters. "Purchases are supported by the lowest mortgage rates on record. The housing market is considerably weaker than the statistics portray. Jobs, not interest rates, are the key to further improvement, but those lower rates from the Fed are putting the dollar on the defensive."
in the midst of all the difering types of media instigaated turmoil, because , believe it or not, everyone watches television and still attend to the jobs and whatever in the few moments they aren't watching it, there is an existance much like before the economy ? heaped up onto the edge of a "cliff' and it will be much the same as we carry on not seeing any change because the fact of the matter is that without the barriers enforced that kept out what destroyed it it will never return; those who lost because of it are the quite forgotten and the new middle class will hurry us towarad some more 700 billion dollar loans that the jews(fed) will demand ransom for later
Are you sure you want to delete this comment?
FIND YOUR DREAM HOME OR APARTMENT
msn real estate is social
WHAT'S YOUR HOME WORTH?
HOME IMPROVEMENT PROFESSIONALS
more on msn real estate