How to negotiate a lower rent
Even at this time of high demand for rentals, a good tenant can sometimes negotiate a better deal. But success requires being smart, as well as being a good tenant.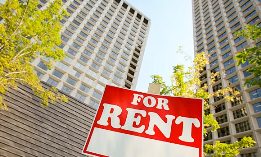 For those of you looking to rent your first apartment (or rent for the first time in many years after giving up homeownership), we have a tip: Rent is negotiable.
It's especially negotiable when it's time to renew your lease and you have paid your rent on time for 12 months and otherwise been a good tenant.
While rising demand for rentals has given even the best tenants less leverage, it may still be possible to negotiate lower rent, improvements or, at least, a smaller rent increase.
Post continues below
"Landlords are looking for good tenants who pay their rent on time, take care of their rental unit, keep noise levels down and stay on good terms with the neighbors and property-management staff," Kari Taylor, director of rental insights at Rent.com, told U.S. News.
Beginning landlords sometimes don't realize the value of a good tenant, until they've had a bad one. But good landlords understand that even a routine change in tenant often costs a month's rent, meaning that reducing the rent for an existing tenant might still net the same amount of money.
Ellen Smith, writing at The Huffington Post, includes eight tips for negotiating a lower rent and includes a copy of the successful letter she wrote to her landlord that resulted in a smaller rent increase.
U.S. News' Daniel Bortz also has eight tips for tenants seeking to negotiate a better deal when it's time to renew a lease. Among them:
Know what the going rate is for rent in your neighborhood. If you can point out that you could move to a comparable apartment and pay less, that could be persuasive.
Ask the landlord for guidance. Rather than threaten to move, just mention that you could save money if you did move and ask the landlord what he or she thinks.
Explain any mistakes you made during the year. If your rent payment was late once, explain why it happened and what you've done to keep it from happening again.
His final suggestion – to threaten to write a negative review on Yelp – drew some opposition from his readers.
"If anything, it is the tenant who has more to lose if the landlord is unwilling to give a favorable reference," Ray Schmitz wrote. He suggests instead asking the landlord what it would take to buy the unit, which he believe signals both financial sophistication and seriousness.
Have you negotiated a better deal with a landlord? If you're a landlord, what would persuade you to give a tenant a break on a planned rent increase?
FIND YOUR DREAM HOME OR APARTMENT
msn real estate is social
WHAT'S YOUR HOME WORTH?
HOME IMPROVEMENT PROFESSIONALS