Remodeling at highest level since 2004
Homeowners who can't move are making improvements. Builders of new homes are slightly more optimistic than they were last month.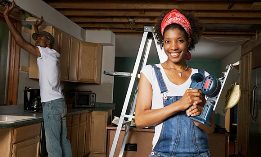 Home-remodeling activity was up 22% in May over a year ago, reaching the highest level since BuildFax began tracking the data in 2004.
That's good news for contractors, because the outlook for new homebuilding remains bleak.
The fact that people are choosing to remodel their homes isn't surprising, because underwater mortgages and tight access to credit have squelched many homeowners' ability to move. The next best thing to buying a bigger house is creating one.
"Through the first five months of 2011, we have seen impressive gains within the remodeling index, and May has continued that trend with a record-setting month," Joe Emison, vice president of Research and Development at BuildFax, said in a news release. "Even with the continued struggles in the economy, the remodeling industry has been a bright spot, as consumers look to make upgrades to their current homes, rather than purchasing a new residence."
BuildFax found that remodeling increased month-to-month in all regions: 18% in the Midwest, 12% in the Northeast, 7% in the South and 7% in the West. Numbers were up year-to-year in three regions: 21% in the West, 10% in the South and 9% in the Northeast. In the Midwest, remodeling was down 11% from May 2010.
While we're talking about BuildFax, we should mention that you can get a free comprehensive report on building improvements made to your home or a home you're considering purchasing for free through July 31. The company tracks building permits in about 60% of the country. I ordered my free report and discovered that previous owners of my home had taken out only one building permit in the last 25 years, but perhaps people are more law-abiding about permits where you live. After July 31, the reports will cost $39.99 each.
Post continues below
If you're thinking about remodeling your kitchen, Consumer Reports' July edition has a special report on kitchen remodeling, including ratings on appliances, flooring and countertops and tips on which improvements bring the most bang for your buck. The magazine also has videos of kitchen remodeling projects that cost $5,000, $15,000 and $50,000.
In a separate report, the National Association of Home Builders reported that its Housing Market Index, which measures builder confidence, rose two points in July, after falling three points in June. But the index, at 15 points, remains far below 50, the number at which sentiment is more positive than negative.
"We view the upward movement in the July HMI as a correction from an exceptionally weak number in June that was at least partly attributable to negative economic news and the close of a disappointing spring selling season," NAHB chief economist David Crowe said in a news release. "Basically, the market continues to bounce along the bottom, with conditions in some locations beginning to improve."
FIND YOUR DREAM HOME OR APARTMENT
msn real estate is social
WHAT'S YOUR HOME WORTH?
HOME IMPROVEMENT PROFESSIONALS
more on msn real estate