Cities growing faster than suburbs
For the first time since cars become popular in the 1920s, U.S. cities — or at least some of them — are growing faster than their surrounding suburbs.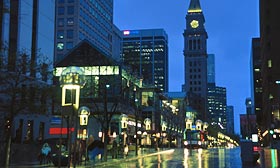 For the first time in nearly a century, America's cities are growing faster than its suburbs.
For those who have lived through decades of failed downtown revitalizations, it's notable to see that revitalization may finally be working in some areas. According to new data from the U.S. Census Bureau and analyzed by the Brookings Institution, urban areas grew faster than suburbs in 27 of the 51 largest U.S. cities between 2010 and 2011.
That reverses a flight to the suburbs that began in the 1920s, when more Americans began acquiring cars. Only five of the 51 largest cities saw more growth in the cities than in the suburbs between 2000 and 2010.
Post continues below
"City growth in recent years clearly has ramped up faster than suburban growth has declined, suggesting an increased attractiveness of cities," William H. Frey, a demographer at the Brookings Institution, told The Associated Press. "The real question is, will cities continue to hold their own when the suburban housing market picks up? Cities that market themselves well to young people and that offer job growth, cultural amenities and access to rapid transit are likely to see continued growth."
Among the cities showing the greatest growth compared with their outlying suburbs were New Orleans; Atlanta; Denver; Washington, D.C.; and Charlotte, N.C. Other cities showing greater growth in cities than in suburbs were New York; Philadelphia; Kansas City, Mo.; and Columbus, Ohio. You can read more of Frey's analysis here.
The reasons for the shift vary. Empty nesters and young people are choosing cities more often than suburbs, sometimes for economic reasons (they're forced to rent rather than buy) and sometimes for lifestyle reasons.
"I will never live in the suburbs," Jaclyn King, 28, told The AP. She grew up in the Denver suburb of Littleton and doesn't want to commute 45 minutes each way to work, as her parents did. She and her fiancé are renting a house six miles from her workplace, and she sometimes rides her bike to work. "I just like being connected to everything down here — concerts, work, restaurants, all of it. This is where everything's at."
One exception to the trend of moving back to the cities in Dallas, where suburban growth continues to outpace urban growth. Writes Candy Evans of Candy's Dirt: 
In Dallas, young people get married and live close in, maybe an M Street cutie or a midcentury in Oak Glen. But she gets preggers, they check schools and, zip, they are off to the suburbs. They want a community, they tell me, where their kids can play in safety, they want good schools and space. Go north you get a four-bedroom house for less than $300K, maybe a club in the development, and an hour-long commute. So what — get a nice fuel-efficient car and work from home two days. That, or the breadwinner flies off from DFW half the week.
What do you think? Do you think the move back to the cities will stick? Or is it just a temporary trend that will be reversed as the economy improves?
About Teresa Mears
Teresa Mears is a veteran journalist who has been interested in houses since her father took her to tax auctions to carry the cash at age 10. A former editor of The Miami Herald's Home & Design section, she lives in South Florida where, in addition to writing about real estate, she publishes Miami on the Cheap to help her neighbors adjust to the loss of 60% of their property value.
msn real estate is social
FIND YOUR DREAM HOME OR APARTMENT
WHAT'S YOUR HOME WORTH?
HOME IMPROVEMENT PROFESSIONALS
from our partners