Courtney Love wins eviction fight
Manhattan judge agrees with the rocker that she had paid her rent. Whether she 'ruined' the $27,000-a-month townhouse with her renovations is being debated.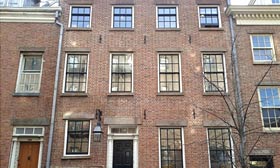 Rocker Courtney Love has won her case and won't be evicted from her $27,000-a-month New York City townhouse.
The law was on her side: A judge agreed with her contention that she was current on her rent on the four-story, three-bedroom home in Manhattan's West Village and dismissed the suit brought by her landlord.
Love plans to move anyway next month, when her lease expires, according to The New York Post.
Post continues below
Landlord Donna Lyon had complained that Love had "ruined" the home's interior with unapproved renovations, which she discovered when she hired a photographer to take pictures of the home to list it for sale. The townhouse was decorated by former owner and designer Steven Gambrel and was featured in Elle Décor in 2009. Lyon bought it for $8 million in 2010.
She estimated it would cost $100,000 to undo Love's work and told The Post:
Courtney has wallpapered and painted a large portion of the property without my consent. … I was horrified by what she had done. The walls that had been hand-painted and glazed were ruined, covered in damask wallpaper and ice-blue paint.
She also complained that the home had been damaged by fire, but Love's representatives said a small fire caused by a candle was put out quickly and didn't do any serious damage.
Love told The Post that she got permission to repaint and used a painter approved by the landlord.
XOJane, where Love is a contributing editor, was invited to photograph her townhouse in December, and you can see lots of photos here. Curbed New York has photos of the townhouse before Love moved in. Here's a recent exterior photo from The Village Voice. Does it look ruined to you?
The dispute may not be over. Lyon's lawyer Norman Flitt told The Post, "The alteration dispute was not part of the rent case and remains unresolved."
FIND YOUR DREAM HOME OR APARTMENT
msn real estate is social
WHAT'S YOUR HOME WORTH?
HOME IMPROVEMENT PROFESSIONALS