Homeowners still remodeling, rather than moving
Kitchen and baths remain top remodeling projects as homeowners adapt yesterday's homes to today's family life.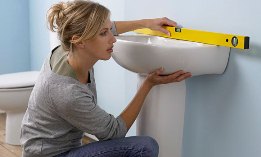 This news likely is no surprise: More homeowners are remodeling rather than moving, and top projects remain kitchens and baths.
A new survey from the National Association of Home Builders found that remodeling projects have increased since the group did a similar survey in 2010, with nearly 50% of remodelers reporting they are hearing from more homeowners who want to renovate to avoid moving.
Kitchen and bathroom remodeling projects are up 17% from two years ago, the survey found, with bathroom remodeling holding on to the top spot it took from kitchens back in 2009.
Post continues below
According to the survey, fewer homeowners are citing increasing the value of their home as a reason for remodeling.
Instead, more than 60% of remodelers reported increased demand for repair and replacements of old components such as windows and doors. More than half of remodelers said homeowners also want upgraded amenities, though they did not comment specifically on whether homeowners were still mad for granite and stainless-steel appliances in the kitchen.
These are remodeling and building trends identified by builders after the International Builders' Show in Orlando, Fla., earlier this year:
Reworked spaces. Families are eliminating underused areas such as dens and home offices in favor of more open gathering space.

More amenities in multifamily developments. That helps compensate for smaller apartment sizes. Among the new amenities are work spaces and libraries.

Design efficiency. This means not only projects that save money but construction tactics that cost less, such as building more rectangular homes.
Multigenerational living. With more young adults coming back home to live, as well as the need to provide housing for elderly parents, both remodelers and builders of new construction are looking for ways to create additional living units.
"Homeowners are repurposing spaces and making more efficient use of their home's square footage," NAHB Remodelers Chairman George "Geep" Moore Jr. said in a news release. "Whether it be young families or couples aging in their homes, people want to let their house adapt with their needs as they change over time."

We just remodeled both bathrooms AND our kitchen and painted the bedrooms!
We used S-N-S Remodeling and they did a great job. ( 
houstonhomeremodelin​g
dot com )  They are a full service contractor and they handle EVERYTHING! All we had to do is tell them what we wanted and we had already picked out the faucets and sinks and what kind of granite we wanted. They even custom built all of the cabinets and vanities just like we wanted them (bigger than "standard" sizes at Home Depot).
They worked their butts off! We got off CHEAP too, we could have never got the work done by ourselves, but they were finished in 2 weeks!
We are so happy with their quality work, everything is just the way we had it pictured before we started.    They work all over the Houston and surrounding areas so give them a call and remodel your home the way YOU want it!
S-N-S Remodeling is a very good full service contractor for all of your home remodeling. I highly recommend them and their work is second to none!
Are you sure you want to delete this comment?
About Teresa Mears
Teresa Mears is a veteran journalist who has been interested in houses since her father took her to tax auctions to carry the cash at age 10. A former editor of The Miami Herald's Home & Design section, she lives in South Florida where, in addition to writing about real estate, she publishes Miami on the Cheap to help her neighbors adjust to the loss of 60% of their property value.
msn real estate is social
FIND YOUR DREAM HOME OR APARTMENT
WHAT'S YOUR HOME WORTH?
HOME IMPROVEMENT PROFESSIONALS
from our partners