Home sales rise slightly
Distressed properties made up 40% of sales, with a record number of all-cash sales and strong interest from investors.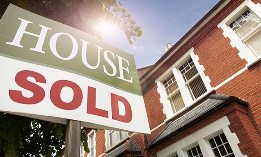 Sales of existing homes rose 3.7% in March, led by investors and a record number of all-cash deals.
Investors accounted for 22% of the homes purchased (up from 19% in February and in March 2010), and a record 35% of purchases were all cash, according to monthly data from the National Association of Realtors.
The bad news is that first-time homebuyers, considered a key part of the market, accounted for only 33% of sales, down from 34% in February and 44% in March 2010, when they were eligible for a tax credit. The data covers single-family homes, townhouses, condos and co-ops.
"While the increase is encouraging, we still do not see the gain as the start of a genuine recovery," Wells Fargo economist Anika Khan wrote, as reported by The Wall Street Journal. As she noted, bad weather likely kept February's total low, so an increase in March would not necessarily be significant.
A total of 40% of the existing-home sales were short sales, foreclosures and other distressed properties, which the Realtor group estimates are sold at a 20% discount. That's up from 39% in February and 35% in March 2010.
Clearing out the inventory of distressed properties is one key to returning to a healthy housing market. But no one knows how many distressed homes are not yet on the market, and in some markets those homes could take years to sell at the current rate.
Post continues below
Builders of new homes are finding it hard to compete with the heavily discounted existing homes and are pessimistic about recovery for their industry any time soon.
The median price of an existing home sold in March was $159,600, down 5.9% from last March.
Homes are more affordable, the Realtor group noted, with payments for a median-priced home amounting to only 13% of gross household income, the lowest since the group began keeping records in 1970. But difficulty getting a mortgage is continuing to keep many would-be first-time homebuyers in rental housing.
Citing data from Freddie Mac and Fannie Mae, the NAR said that the average credit score required to obtain a convention mortgage has risen from about 720 in 2007 to 760. For FHA mortgages, the average credit score has risen from about 630 in 2007 to about 700. Plus, underwriting is stricter and lenders are demanding larger down payments.
"Although home sales are coming back without a federal stimulus, sales would be notably stronger if mortgage lending would return to the normal, safe standards that were in place a decade ago – before the loose lending practices that created the unprecedented boom and bust cycle," NAR chief economist Lawrence Yun said in a news release.
A federal tax credit in effect last year likely raised sales from March to June 2010, so comparing the two years is less telling then it would be otherwise.
Yun sees recent home-sales data as encouraging. "Existing-home sales have risen in six of the past eight months, so we're clearly on a recovery path," he said in the news release. "With rising jobs and excellent affordability conditions, we project moderate improvements into 2012, but not every month will show a gain – primarily because some buyers are finding it too difficult to obtain a mortgage."
Looking at the data by region:
South: Sales rose 8.2% over February but are 1% below March 2010. The median price was $138,200, down 6.6% from a year ago.
West: Sales dropped 0.8% and are 3.1% below a year ago. The median price was $192,100, down 11.2% from a year ago.
Northeast: Sales rose 3.9% but were 12.1% below March 2010. The median price was $232,900, down 3% from a year ago.
Midwest: Sales increased 1% but were 13.1% below the number in March 2010. The median price was $126,100, 7.1% below the price a year ago.

I know people are out of work ,etc.  but taking a page from an older generation was to only buy what you could afford on ONE income,  giving  yourself a buffer...not IMMEDIATE GRATIFICATION.   The housing figures come from large cities with job loss information.  What about  the smaller areas that are not as affected ?  The publicity and realtors pessimism create their own problems, frightening the household market.  Where are the NO problem housing areas?

The article fails to mention that the average home buyer does not have 20% down in this economy, thus the banks are requiring reserves of up to 6 months of mortgage payments to be banked before the bank will underwrite the note.  Good luck in selling houses in this market.  Everyone suffers, the homeowner can't or has a very hard time purchasing, the banks are stuck with more properties as sellers can't sell due to the banking restrictions and are struggling to keep the homes, and the realtors receive less and less income due to the downturn in sales.  Really the only people that can buy are the investors, and the average Joe has to rent from them.

An important note is that the main player in the market is the investor.  There are 2 types: flippers and holders.  The holders are the same people that assisted in the bubble 6 years ago, then got caught and let the properties go.  If the market does not increase anytime soon, they will dump their properties again, creating yet another flush.  The flippers are dependant on buyers - especially 1st time buyers, who don't appear to be out there anymore either.  Without real, creditworthy potential homebuyers out there, the market can only constrict further, deflating prices even more.  The way out of this is to tackle both the credit system and lending standards.  Credit is a fickle beast and ignorance to its inner workings is the norm.  Additionally, people's feelings that they need to live up to their obligations are changing.  Perhaps a way of separating credit based on extreme changes in finances vs. bailing on obligations needs to be endorsed, accompanied by an awareness blitz is needed, since financial integrity is slipping.

Some quick calculations:  I figured the median home price of 160,000 and median family income of 50,000.  At 20% down the loan is 128,000 for 30 yrs at 4.5% making a payment of 815 per month or 21% of gross income.  How they figured 13% is realtor PR talk.  Taxes gotta be 150 or so a month and utilities 250-300 for a total amount of 1215 to 1265 a month.  That amounts to 32% or more ($16,000) of income.  My figures are rough but in the ball park.  Try that on 50K a yr with 2 kids. 
Is a realtor lying?  Is he/she talking?  Also interests me the people who write such articles without spending 2 minutes on a calculator.  As a true believer in the American media, I have a saying "is the media BShi____?  Are they talking? 
Are you sure you want to delete this comment?
FIND YOUR DREAM HOME OR APARTMENT
msn real estate is social
WHAT'S YOUR HOME WORTH?
HOME IMPROVEMENT PROFESSIONALS
more on msn real estate