Family can't get squatters out of home
Colorado residents come home to find strangers living in their house. Eight months later, they are still waiting to get back in.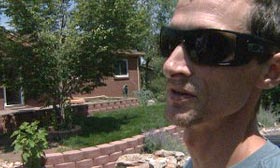 Here is your worst nightmare: You go temporarily to another town for work, and when you come back, another family has taken over your house.
That happened to the Donovan family of Littleton, Colo. The Donovans have been pursuing legal action for eight months to get their home back.
Back in March 2011, Troy Donovan got a job in Indiana, and his wife, Dayna, and two daughters moved with him. After months of trying to sell their Colorado house, the family gave up, winterized the place and turned off the utilities, expecting their vacant home to be waiting for them when they returned.
But to their surprise, it was not. Neighbors informed them other people had moved in.
Post continues below
"We show up at the house, and we say, 'Look, I'm Troy Donovan, this is my wife, Dayna, we own this home,'" Donovan told CBS4 in Denver. But the occupants refused to leave.
Veronica Fernandez-Beleta and Jose Rafael Leyva-Caraveo said that the home was theirs and that they had paid Alfonso Carillo $5,000 for a deed of "adverse possession," according to the TV station. It's unclear whether they believed they could really get a house for $5,000 or if they were making additional payments. "I am sad and confused and distressed," Fernandez-Beleta tearfully told CBS4.
According to the TV station, Carillo, a former real-estate agent who was stripped of his license, has been part of at least a dozen schemes throughout the Denver area. Carillo has refused to talk to the TV station and has filed federal lawsuits against law-enforcement agencies accusing them of harassing the Hispanic residents of the homes. Carillo is facing criminal charges.
The homes taken over included a property worth nearly $1 million and the home of a man who was in a hospital for several months, who had to hire a lawyer to have the occupants evicted.
"I thought it was my house and all I had to do was come down and say, 'This is my house. Get out.' And it didn't turn out that way," said Larry Asbery, who has since died, to CBS4 earlier this year.
Adverse possession is a legal mechanism through which someone gains control of another's property by "hostile, open and notorious" use for a period of years – 18 in Colorado, or seven if the occupants pay the taxes. The doctrine is used most commonly in border disputes.
But there have been a number of schemes nationwide in which squatters have claimed they could take over vacant homes through adverse possession, as well as schemes in which people sold or rented homes they didn't own.
The Donovans have been living in a relative's basement and were elated Thursday when a judge ruled in their favor.
"We get to get out of the basement, get a full home to live in," Dayna Donovan told CBS4. "A home we created and worked very hard in, as well."
But as of Sunday, the Donovans were still waiting. Troy Donovan wrote on the CBS4 website:
Yes we had a Judge rule in our favor and gave them 48 hrs to vacate. They aren't budging. They are STILL living there and won't move out!! They were aware that they were being scammed the second we got back to Colorado because we told them. That was 6 weeks ago. Let alone when we found out they were living there in March we sent Littleton PD over to our house and that's when they produced the phony documents and were allowed to stay there. They have had plenty of time to move. They are running this thing to the very very end. We now have to pay Arapahoe County Sheriffs to evict them, but we can't do anything until Monday then we will get a date of when they will go there and physically remove them. So in short, NO WE DID NOT GET OUR HOME BACK IN 48 HRS. This is an outrage!!!
FIND YOUR DREAM HOME OR APARTMENT
msn real estate is social
WHAT'S YOUR HOME WORTH?
HOME IMPROVEMENT PROFESSIONALS
more on msn real estate