Tiger Woods' ex-wife levels Palm Beach mansion
Elin Nordegren plans to build a new home on the Florida oceanfront site. Meanwhile, demolition plans in Malibu have drawn opposition from celebrity neighbors.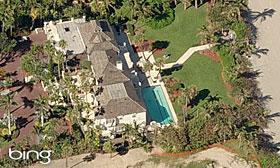 The rich are different.
What looks like a mansion to us is just too, too small, and rather than add a new wing, they often just tear down the whole thing and start over.
The latest celebrity to knock down a house is Elin Nordegren, the ex-wife of golfer Tiger Woods, who recently demolished her 17,000-square-foot oceanfront mansion near Palm Beach, Fla., so she can build a new home on the site. She paid $12.2 million for the eight-bedroom home in a gated community in February.
Post continues below
Citing county records, Jose Lambiet's GossipExtra reports that the new home will be built by Onshore Construction and Development, which also built homes in Palm Beach County for Woods, his mother and singer Celine Dion. According to Lambiet, the workers were all required to sign confidentiality agreements.
While construction is under way, Nordegren is living in a $1.1 million condo she bought this summer. At the time, she reportedly was planning to live in the 1,800-square-foot unit while renovating the mansion.
Property records say that the home Nordegren demolished was built in 1932 and that it had a 4,700-square-foot basement, which is highly unusual in South Florida. While the county property records say the home was 17,000 square feet, other records list it at about 9,000 square feet.
She should be glad she doesn't live in Malibu, Calif.
A New York hedge-fund manager in 2009 bought an unusual home, made up of six diamond-shaped segments, designed by architect Bart Prince and built in 2005. Now the owner wants to tear it down and build a conventional 5,710-square-foot Mediterranean mansion, Curbed reports.
The plan has run into strong opposition from Red Hot Chili Peppers drummer Chad Smith, band mates Anthony Kiedis and Flea, actor Sean Penn and comedian Don Rickles. It's not because they are architectural preservationists but because the new mansion would block their ocean view.
FIND YOUR DREAM HOME OR APARTMENT
msn real estate is social
WHAT'S YOUR HOME WORTH?
HOME IMPROVEMENT PROFESSIONALS
more on msn real estate