Dennis Quaid sues over defects in Austin mansion
Lawsuit says sellers of lakefront estate failed to disclose problems with water intrusion, rats and remodeling done without permits. The sellers disagree.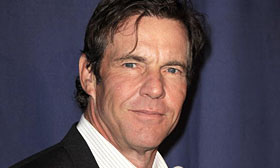 Paying a lot for a house apparently does not ensure it's in good shape, or even in livable condition.
Actor Dennis Quaid and his wife, Kimberly, are suing the sellers of the Austin, Texas, mansion for which they paid an undisclosed number of millions in February. They allege the sellers misrepresented the condition of the house and are asking for their money back, as well as additional damages and attorney fees.
Post continues below
According to the lawsuit, the home suffers from water intrusion and related damage, remodeling projects that were done badly and without permits, and a rat infestation.
The problems are so bad, according to the Quaids, that they cannot live in the house and have been forced to rent another home in Austin. 
The Quaids moved to Austin to be nearer to the actor's mother, who is in a retirement home there. Dennis Quaid is from Houston; his wife is from Austin.
It's not known how much the Quaids paid for the two pieces of property that make up the estate, but the main house was last listed for $12 million. It's a six-bedroom, eight-bath house, with 11,103 square feet on just under half an acre. It has a pool, outdoor fireplace, wine room and secured vault, plus 100 feet of lakefront.
The house was built in 1970. According to the listing, it was "remodeled in 2007 using the finest finishes and materials." The second piece of property includes a boathouse and a helipad.
The Real Estalker has photos, as does Candy Evans at Candy's Dirt.
The sellers were Blake and Monica Byram, who are well-known in Austin. Their lawyer told The Austin American-Statesman that the Byrams "don't agree with the allegations" and are negotiating with the Quaids, whom they consider friends.
FIND YOUR DREAM HOME OR APARTMENT
msn real estate is social
WHAT'S YOUR HOME WORTH?
HOME IMPROVEMENT PROFESSIONALS
more on msn real estate