A sign the housing recovery is slowing?
The number of contracts signed to buy homes was down in December, as were home sales. Tight inventory may be holding back sales.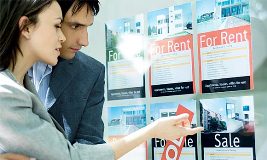 The number of contracts signed to buy existing homes fell in December, likely a response to the falling inventory of homes for sale.
The number of purchase contracts signed in December was down 4.3% from November, according to new data from the National Association of Realtors. The Pending Home Sales Index reported that the number of contracts signed was 6.9% higher than the number of contracts signed in December 2011.
Homes sales slipped 1% in December, and the decline in purchase contracts suggests that home sales themselves will fall in the coming months, after stretching toward recovery in 2012.
The number of homes for sale was down 21.6% from last December, with only 4.4 months' supply available at the current sales rate. The inventory is particular low when it comes to the more affordable homes favored by first-time homebuyers.
"The supply limitation appears to be the main factor holding back contract signings in the past month," the NAR's chief economist, Lawrence Yun, said in a news release. "Buyer interest remains solid, as evidenced by a separate Realtor survey, which shows that buyer foot traffic is easily outpacing seller traffic."
He noted that the situation varied from region to region; more Western cities were sellers markets, while Northeastern markets tended to be more balanced. 
Existing home sales rose 9% in 2012, and Yun predicts another 9% increase this year.
"We expect a seasonal rise of inventory in the spring to help, but a sellers market may be developing," Yun said
Here are the numbers by region.
Northeast: Contracts down 5.4% from November but up 8.4% over December 2011.

Midwest: Contracts up 0.9% from November and up 14.4% over December 2011.

South: Contracts down 4.5% from November but up 10.1% over December 2011.

West: Contracts down 8.2% from November but up 5.3% over December 2011.
About Teresa Mears
Teresa Mears is a veteran journalist who has been interested in houses since her father took her to tax auctions to carry the cash at age 10. A former editor of The Miami Herald's Home & Design section, she lives in South Florida where, in addition to writing about real estate, she publishes Miami on the Cheap to help her neighbors adjust to the loss of 60% of their property value.
msn real estate is social
FIND YOUR DREAM HOME OR APARTMENT
WHAT'S YOUR HOME WORTH?
HOME IMPROVEMENT PROFESSIONALS
from our partners