Home prices show best performance in 6 years
Prices rose 3.8% from July 2011 to July 2012, according to CoreLogic. Arizona had the greatest appreciation and Delaware the greatest drop in values.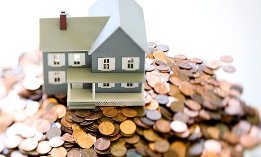 Home prices were up 3.8% in July, the greatest year-over-year increase in six years.
New data from CoreLogic found that prices rose 1.3% from June to July and that the year-over-year data marked the fifth consecutive month of improvement. Analysts expect even better numbers for August.
"The housing market continues its positive trajectory with significant price gains in July and our expectation of a further increase in August," Mark Fleming, chief economist for CoreLogic, said in a news release. "While the pace of growth is moderating as we transition to the off-season for homebuying, we expect a positive gain in price levels for the full year."
Post continues below
Taking sales of distressed properties out of the picture, the increase in prices from July 2011 to July 2012 was 4.3%.
CoreLogic, which tracks repeat sales of the same properties, was the second major index to show improvement in the past week. The Case-Shiller 10-city and 20-city indexes also showed a year-over-year increase.
But, as with other indexes, the story was not the same in all local markets. Of the 100 largest metro areas, 23 showed declines in property values, down from 27 in June. Looking at state statistics year-over-year, the numbers ranged from appreciation of 16.6% in Arizona to depreciation of 4.8% in Delaware.
The states with the highest level of appreciation, after Arizona, were Idaho, 10%; Utah, 9.3%; South Dakota, 8.3%; and Colorado, 7.3%.
The states with the highest level of depreciation, after Delaware, were Alabama, 4.6%; Rhode Island, 2.2%; Connecticut, 1.7%; and Illinois, 1.7%.
Even though Arizona showed 16.6% appreciation in the past year, it is still one of the five states reporting the greatest decrease in property values since the peak: 42.8%. The other states showing the highest rate of decline in property values since the peak are Nevada, 56%; Florida, 44.2%; California, 38%; and Michigan, 37.4%. Nationally, prices are 27% below the peak in April 2006, CoreLogic reported.
CoreLogic predicts the price increases will slow as winter approaches, but its analysts still expressed optimism.
"Although we expect some slowing in price gains over the balance of 2012, we are clearly seeing the light at the end of a very long tunnel," Anand Nallathambi, president and CEO of CoreLogic, said in a news release.
It could be a very long tunnel indeed, according to The Wall Street Journal's Developments blog:
While the year-over-year comparisons look good right now, the economy -- and workers' wages -- aren't growing fast enough to justify this kind of increase on a sustained basis.
Instead, the snapback in home prices in the last six months is more an indication of how prices "over-shot" over the past year. Investors, sensing deals, began buying up homes. The most likely scenario for home prices over the next year is that they may rise, but not at the breakneck pace of the past few months (and they'll fall on a relative basis in the coming months due to normal seasonal factors).

Ha,"once you take out the short sales, the numbers are up" this is more Realtor speak. Listen, a sale is a sale, you take the average price of all of the homes sold, compare it to last year son. Don't pull a mulligan or what if... This is more misdirection from Realtors/Banks, whose #1 job is to sell a house. Give me a break.....
Are you sure you want to delete this comment?
About Teresa Mears
Teresa Mears is a veteran journalist who has been interested in houses since her father took her to tax auctions to carry the cash at age 10. A former editor of The Miami Herald's Home & Design section, she lives in South Florida where, in addition to writing about real estate, she publishes Miami on the Cheap to help her neighbors adjust to the loss of 60% of their property value.
msn real estate is social
FIND YOUR DREAM HOME OR APARTMENT
WHAT'S YOUR HOME WORTH?
HOME IMPROVEMENT PROFESSIONALS
from our partners