Foreclosure deal: No cure, but it won't hurt
The $25 billion settlement will help some homeowners, but it's not large enough to turn the market around. New servicing standards will help all borrowers, if the standards are enforced.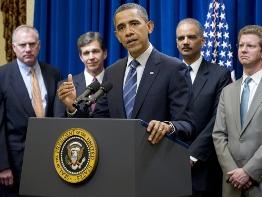 The number $25 billion sounds like a lot — until you hold it up against the $750 billion by which U.S. homeowners are underwater on their mortgages.
While the foreclosure settlement between five big banks and 49 states reached after 16 months of negotiation sounds big, it's not nearly big enough to heal the housing market, analysts say — but it won't hurt.
"The best thing about the mortgage settlement is that it's done," Stan Humphries, chief economist of the real-estate firm Zillow, said in an email to reporters. "It will be a good thing for many individuals, and therefore is worthwhile, but it's important to manage our expectations of the effect it will have on the economy. As far as helping the housing market as a whole, it's a drop in the bucket. To put it into perspective, negative equity is a $750 billion problem, and this settlement designates $17 billion for mortgage relief."
Post continues below
The government estimates the settlement will affect about 2 million borrowers. While it's far from the magnitude necessary to heal the housing market, it is one of several recent programs aimed at expanding foreclosure-preventi​on efforts.
The Wall Street Journal has a good Q&A about how the settlement will affect homeowners. You can also read the government's FAQ.
About 50% of U.S. homeowners with mortgages aren't eligible for any principal reductions, because their loans are backed by government-sponsored​ enterprises Fannie Mae and Freddie Mac, which are not participating in this settlement or any other principal-reduction program.
The settlement also sets standards for mortgage servicers, requiring them to "make unprecedented changes in how they service mortgage loans and handle foreclosures," according to the federal government website explaining the settlement. We don't know if this will finally persuade them to quit losing homeowners' documents, but we can hope. The settlement creates "dozens of new consumer protections." Whether this settlement will go further toward solving  basic servicing problems than previous federal crackdowns is unknown.
One of the most important changes is that servicers will no longer be able to pursue a dual track: pursuing a foreclosure case against a homeowner who is engaged in the mortgage modification process.
Critics of the settlement say it lets the banks off lightly for outright fraud, before the depth of the wrongdoing was even investigated. Dennis M. Kelleher, president and CEO of Better Markets and a former corporate lawyer, wrote at The Huffington Post:
Think about this: The banks engaged in a years' long pattern and practice of what can only be described as fraudulent if not criminal conduct that would put anyone else in prison for years if not decades, yet banks get to buy off the cops with some money to help just a few of the victims they created.

Worst of all, there is no requirement in any of these talks that I'm aware of that require the banks to come clean, publicly release all the relevant documents and provide sufficient information on their conduct so that anyone can evaluate whether the sell-out, I mean, pay-off, oops, I mean, "settlement" is anywhere near adequate.
About $1.5 billion of the settlement was set aside as payments to 750,000 homeowners "who were not properly offered loss mitigation or who were otherwise improperly foreclosed on" between Jan. 1, 2008, and Dec. 31, 2011.
Those payments are estimated at $2,000 per homeowner, not much consolation if you lost your home because the banks didn't follow the law. Those homeowners will still be free to sue even if they take the payments.
What do you think? Is this settlement going to make a difference?

If this rescue had been available to me I would not be in the position I am now. However I live in the UK and all rescue packages here have been designed to help the banks at the cost of the indidvidual and not the other way round. I am persecuted daily for a £217,000 shortfall the banks created on a property which could still have been my home if they would have accepted a part payment on our mortgage until husband was re-employed or allowed me to rent it to a tenant. Instead HBOS made me homeless by repossessing and now hound me for a shortfall they no full well I do not have the means with which to repay. See lifeafterdebt blog called Debt Sentences
Are you sure you want to delete this comment?
FIND YOUR DREAM HOME OR APARTMENT
msn real estate is social
WHAT'S YOUR HOME WORTH?
HOME IMPROVEMENT PROFESSIONALS
more on msn real estate