Landlords require tenants to carry renters insurance
Buying a policy to cover your possessions is always a good idea, but more property owners are taking the decision out of your hands.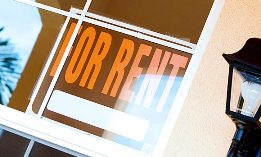 If you rent a house or apartment, buying renters insurance to cover your possessions has always been a good idea. These days, more landlords are taking the decision out of your hands and requiring tenants to get insurance.
Though no one tracks what percentage of landlords requires tenants to buy insurance, anecdotal reports indicate that number is increasing, says an article in SmartMoney. Websites aimed at landlords advise including the requirement in the lease.
Rose Lichter-Marck, 28, who lives in New York, wishes she had bought renters insurance. When her building caught fire, she had to replace all her furniture, housewares and books. She spent $2,000 just getting the smoke smell out of her clothes. If she'd had insurance?
"They would have put me up in a hotel, paid for my cleaning and moving fees and even the broker's fee for a new place," Lichter-Marck told The Associated Press.
The landlords' insurance usually covers just the structure itself, not your possessions or a place to stay if your apartment is damaged.
Renters insurance costs $100 to $300 a year, plus an additional-cost riders for valuable items such as jewelry that may get limited protection in a standard policy.
Why would a landlord require a tenant to carry insurance? Mary Gallagher explains in an article at SF Gate Home Guides. Among the reasons:
It makes the tenant less likely to sue if his possessions are damaged.
Insurance often covers the removal of damaged goods, such as furniture, which may end up costing the landlord if the tenant just leaves the ruined items behind.
Some landlords also require renters to carry liability insurance in addition to property coverage.
As the rental market tightens, expect to see more leases that require, not just suggest, renters insurance. If you're a landlord, you may want to consider adding that proviso to your tenants' leases.
FIND YOUR DREAM HOME OR APARTMENT
msn real estate is social
WHAT'S YOUR HOME WORTH?
HOME IMPROVEMENT PROFESSIONALS
more on msn real estate