Housing starts at 4-year high, but challenges loom
Construction was started on nearly 35% more homes in September than in September 2011. But new-home builders still face significant obstacles.
Post begins below video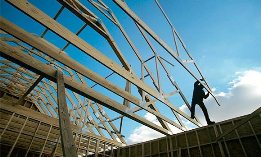 Builders started construction in September on the highest number of new homes in four years, another indication that the housing market is coming back to life.
The number of housing starts increased 15% over the previous month, and the number of new building permits grew 11.6%, which bodes well for construction in the coming months — if builders, buyers and the economy can rise to several significant challenges.
"Today's strong report corresponds with the significant gains we've seen in builder confidence over the past year, and confirms our view that a housing recovery is solidly under way in a growing number of markets nationwide," David Crowe, chief economist for the National Association of Home Builders, said in a news release. "That said, we are now almost at the halfway mark in terms of what would be considered a normal amount of new-home construction in a healthy economy, and we need to see consistent improvement like this over an extended period to get back to where the market should be in terms of generating jobs and economic growth."
The number of building permits issued was 45.1% above the number issued in September 2011, and the number of homes upon which construction started was 34.8% above the figure a year ago, according to data from the Census Bureau and the Department of Housing and Urban Development.
"Things are lining up for housing," John Canally, an economist at LPL Financial in Boston, said to Reuters. "It's another step in the right direction, but you still have a long, long way to get back to 'normal' in housing."
By region, housing starts were up 20.1% in the West, 19.9% in the South and 6.7% in the Midwest, but fell 5.1% in the Northeast.
With numbers this much above 2011's, you'd think builders would be in a better mood. The shortage of used homes in many markets also is improving the outlook for new construction.
Builders are on track to build about 872,000 new housing units this year. Although it is the highest number since August 2008, it's still significantly below the number of new homes built in a healthy market. 
As NAHB Chairman Barry Rutenberg, a homebuilder from Gainesville, Fla., noted, the industry still faces significant challenges. He said in a news release:
... while September's surge in activity is certainly encouraging, we need to remember that we still have a long way to go back to a fully functioning market -- and in order to get there, significant challenges must still be addressed in terms of credit availability and appraisal issues, as well as the increasing cost of building homes due to rising materials prices and a declining inventory of buildable lots.
FIND YOUR DREAM HOME OR APARTMENT
msn real estate is social
WHAT'S YOUR HOME WORTH?
HOME IMPROVEMENT PROFESSIONALS
more on msn real estate