Listing of the Week: History and giant art
LBJ's former hunting ranch, which has been a showcase for monumental artwork for more than a decade, is for sale.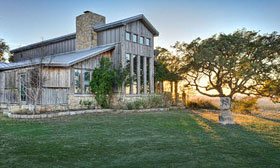 It is not often we find a property that has been home to both a U.S. president and monumental sculptures.
Our Listing of the Week is such a site: the Benini Sculpture Ranch, a haven for art on property that President Lyndon B. Johnson once used for hunting.
The property includes 142-plus acres, with an 11,000-square-foot building that houses an art studio and galleries, an 1,100-square-foot guest house in the woods and a 2,300-square-foot main house on the top of a hill with 360-degree views. It's listed for $2.67 million.
Post continues below
The ranch is in the Texas Hill Country, six miles west of Johnson City and about an hour from Austin, Texas, and San Antonio.
The Italian-born artist Benini (he goes by just one name) and his wife, Lorraine, bought the ranch in 1999. Since then, they have used it to showcase works by Benini and many other artists. More than 100 large pieces dot the grounds, and more art is inside the gallery, which was renovated from its former use as storage for either Johnson's helicopter or his farm machinery.
In a 2004 interview, Benini told Hill Country Magazine that he was charmed by the Texas Hill Country, which reminded him of his boyhood home near Bologna, Italy. Then living in Hot Springs, Ark., the Beninis went to see a real-estate agent.
As the artist tells the story: "I told the Realtor, 'I want a house. I want a hill.' He said, 'I've got it.' From the Hill Country Magazine story:
It wasn't just your average house, or your average hill. Rattlesnake Mountain is the highest point along the beautiful Pedernales River valley, and commands a view that stretches (on a clear day) from Austin on the east to the hills beyond Fredericksburg on the west. The luxuriously rustic, Texas-style home had been built for Lyndon B. Johnson, who used the ranch (now called Le Stelle) for hunting while he served his term as president. And there's more: The varied terrain offers intimate settings among the trees, or open spaces for groupings of sculptures. The rugged hillsides become part of the artist's canvas, as God's handiwork complements that of several noted sculptors.
The Sculpture Ranch is open for tours Friday through Sunday.
If you're in the area, the ranch where Johnson and his family lived for decades is opening to the public for the first time this year. Most of it is decorated as it looked in 1967, when Johnson was in the White House.
Are you sure you want to delete this comment?
FIND YOUR DREAM HOME OR APARTMENT
msn real estate is social
WHAT'S YOUR HOME WORTH?
HOME IMPROVEMENT PROFESSIONALS
from our partners