Places where the bust is over: Start with Pittsburgh
Cities that didn't experience a big run-up in values also didn't suffer a big decline. Jobless rates and foreclosures are key indicators.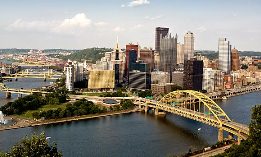 Some days it seems as if we're just writing about one depressing real-estate statistic after another. I'm running out of ways to say "home values fall again."
When the grim statistics get trotted out, it's important to remember that old adage: All real estate is local.
Just because the national average value of real estate is down doesn't mean your home has lost value. The situation is much better in some cities than others. Even in hard-hit areas such as Florida and California, not every house has lost the same amount of value.
Perhaps we should have all bought in Pittsburgh. Monday's Wall Street Journal reminds us that the Pennsylvania city experienced no real-estate boom and no real-estate bust. Home values in Pittsburgh are up 42% since 2000. Check out the WSJ chart comparing Pittsburgh with Las Vegas.
Post continues below
"We weren't at the party, so we didn't get a hangover," Patrick A. Gray, an agent with Howard Hanna Real Estate, told the WSJ.
The WSJ's David Crook provides a capsule tour of Pittsburgh homes in his column.
Bloomberg Business Week ranked Pittsburgh as the second-cheapest real-estate market, after Detroit. The city was ranked the sixth-strongest housing market by Bloomberg in 2009. Forbes has ranked it the most livable city in the United States.
Pittsburgh is not the only U.S. city to have suffered little in the housing crash. In an article entitled "How to tell if your housing market has hit bottom," Crook listed 25 towns where values had fallen less than 10% since their peak. (Click on "View Full Image" on the chart on the left to see the list.)
Home values in Jacksonville, N.C., for example, are down only 0.1% from their peak. Three cities in North Carolina are on the list of 25, as are four cities in New York, including New York City. Four cities in Oklahoma also made the list.
Crook offered this caution with his analysis: "Don't look at these as housing-market 'winners,' and don't go looking for new places where you can score a killing. That's the thinking that got much of the country in trouble in the first place. Housing isn't an investment like stocks or bonds and shouldn't be approached that way."
He suggested three tips for judging whether your market has reached bottom:
Look at the employment picture. Jobs make a big difference.
Look at the rent vs. buy analysis. In communities with strong values, it's often cheaper to buy.
Check out the percentage of foreclosures. Cities where the market has stayed stronger usually have a lower percentage of foreclosures.
About Teresa Mears
Teresa Mears is a veteran journalist who has been interested in houses since her father took her to tax auctions to carry the cash at age 10. A former editor of The Miami Herald's Home & Design section, she lives in South Florida where, in addition to writing about real estate, she publishes Miami on the Cheap to help her neighbors adjust to the loss of 60% of their property value.
msn real estate is social
FIND YOUR DREAM HOME OR APARTMENT
WHAT'S YOUR HOME WORTH?
HOME IMPROVEMENT PROFESSIONALS
from our partners