What your front-door color says about you
The color you choose for your front door may send a message about your personality and the atmosphere inside your home.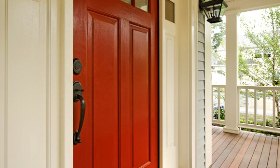 What does your front door say about you?
According to the Paint Quality Institute, your front-door color is a key to your personality as well as to the atmosphere inside your home.
"Like a necktie, which is the focal point of an outfit, the front door is the focal point of the home," writes Debbie Zimmer, the editor of the institute's newsletter. "The color there sends a strong message – in the case of the front door, providing insight into how we view our home."
Post continues below
And just what do those color choices say?
The Paint Quality Institute doesn't comment on white, a color that may communicate "This is how the door came, and I didn't care enough about my home's exterior to change it." I am sending this message with my back doors. My front door sends a similar message: "I came with the house, and my owner is too busy writing to paint me another color."
Maybe your front door is speaking more eloquently. If you have a bright-colored front door, here is the message you may be sending, according to the paint people:
Red: You've chosen the color of passion. Your door says the home inside is vibrant and "full of life, energy and excitement."

Green: Your home is a place of health, safety, tranquility and harmony. This is a popular color.

Blue: This color, which may be the most popular, connotes home as sanctuary. A blue front door signifies that the home is calm, serene and relaxing.

Black: This color doesn't signify depression or mourning but power. The owner of a black front door is sending a message of strength, sophistication and authority. His home is a serious place "inhabited by a person of substance."

Brown: Uh-oh. This color carries a mixed message. A brown front door, either painted or stained, may convey warmth, stability and reliability. Or maybe not. A dark-brown front door suggests a desire for privacy and isolation.
Changing your front-door color is a quick way to add curb appeal.
Consumer Reports recommends you use semi-gloss paint. For painters on a budget, CR suggests Behr and Glidden.
FIND YOUR DREAM HOME OR APARTMENT
msn real estate is social
WHAT'S YOUR HOME WORTH?
HOME IMPROVEMENT PROFESSIONALS