Multifamily construction boosts housing numbers
Housing starts rose 3.6% in October, led by an 11.9% increase in apartment construction. Builders started 41.9% more homes than they did in October 2011.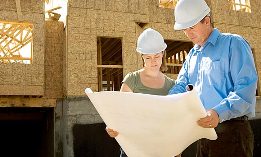 The pace of new construction rose 3.6% in October, bringing it to its best performance in four years.
If builders keep up at this rate, construction will be started on 894,000 new homes in the next year. While that is way below the number constructed during the boom, it's 41.9% above the number of new homes started in October 2011, according to data from the Commerce Department and the Department of Housing and Urban Development.
"Builders are acting to meet rising demand while continuing to exercise caution by pulling a modest increase in the number of single-family permits as the market continues to gradually gain its footing," Barry Rutenberg, chairman of the National Association of Home Builders and a homebuilder in Gainesville, Fla., said in a news release.
The boost was driven almost entirely by an 11.9% increase in housing starts for multifamily buildings. The number of single-family homes started was about the same as in September.
Housing numbers have improved in fits and starts in recent months. Builders recorded their highest level of optimism this month since 2006. Sales of existing homes were 10.9% higher in October 2012 than a year earlier.
But a number of challenges remain for both the new-home and existing-home markets. That includes general economic uncertainty, tight credit – which makes it hard for both homebuyers and builders to borrow – and a shortage of homes for sales in some cities, especially in lower price ranges.
Housing starts rose 17.2% in the West and 8.9% in the Midwest and fell 2.5% in the South and 6.5% in the Northeast, which was hit by superstorm Sandy at the end of October.
In a speech Tuesday to the New York Economy Club, Federal Reserve Chairman Ben Bernanke noted that while housing was improving, it still faced significant difficulties.
"… while historically low mortgage interest rates and the drop in home prices have made housing exceptionally affordable, a number of factors continue to prevent the sort of powerful housing recovery that has typically occurred in the past," he said, citing tight credit, underwater mortgages and an oversupply of vacant homes in some areas. "Unfortunately, while some tightening of the terms of mortgage credit was certainly an appropriate response to the earlier excesses, the pendulum appears to have swung too far, restraining the pace of recovery in the housing sector."
FIND YOUR DREAM HOME OR APARTMENT
msn real estate is social
WHAT'S YOUR HOME WORTH?
HOME IMPROVEMENT PROFESSIONALS
more on msn real estate