Listing of the Week: Mary J. Blige's country manor
The singer's New Jersey mansion has been on the market for nearly 2 years with no takers. She recently lowered the price to $12.5 million.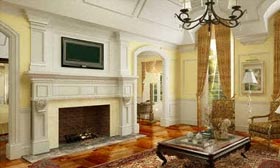 If you're looking for a home in Saddle River, N.J., Mary J. Blige has a deal for you.
She wants you to buy the 18,250-square-foot mansion she bought for $12.3 million in 2008, in hopes she can clear up some of her financial problems. The home has been on the market for almost two years with no takers, and the singer just lowered the price from $13.9 million to $12.5 million.
The songstress has suffered a stream of financial setbacks lately, including a New Jersey tax lien for $901,769.65, a lawsuit for default on a $500,000 loan, defaults on $3 million worth of mortgages and a $4,301 judgment for money owed to a landscaper, The New York Post reports.
Post continues below
The singer and her husband have another New York-area house, plus a home in Beverly Hills, Calif., and apparently also rent an apartment in Manhattan.
The home for sale in the tony New Jersey enclave is on 4.2 acres and was built in the 2000s in the style of a French country manor. It has 25 rooms, including eight bedrooms, eight full baths and three half baths, a theater that seats 14 people, a huge gourmet kitchen with a fireplace -- one of five in the house -- a wine-tasting room, a fitness center, an indoor basketball court and an elevator. The property includes a pool and a six-car garage.
Among the neighbors in Saddle River are fellow rappers Ja Rule and Wyclef Jean, as well as novelist Mary Higgins Clark and actor Danny Aiello.
When Blige bought the house, she thought she was getting a deal – it had been listed for $17 million. You can see photos of how it looked then at Hooked on Houses and a floor plan at The Real Estalker. Now it looks as if any sale will end up being a loss.
FIND YOUR DREAM HOME OR APARTMENT
msn real estate is social
WHAT'S YOUR HOME WORTH?
HOME IMPROVEMENT PROFESSIONALS
from our partners