Is your dog's house nicer than yours?
Elaborate and expensive doghouses provide luxury home for pets who mostly would rather take over your house.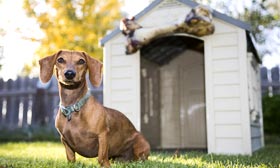 Where does your dog live?
If you said, "In my house with me," you're not alone. The days when dogs lived outside in a doghouse are long gone. But that doesn't keep people from buying ever fancier doghouses.
"Half our clients say, 'Hey, we'd like a replica of our home for the dog,' and half say, 'This is the dream house we've always envisioned but couldn't afford in real life' — like a French palace for the French poodle," Michelle Pollak, a partner in the custom doghouse company
La Petite Maison, told The New York Times. Average price is $5,000 to $6,000.
Post continues below
Pollak created a large, Mediterranean-style home for supermodel Rachel Hunter's two dogs. The canine castle includes hand-made roof tiles, wall coverings painted with paw prints and bones and framed artwork of dogs. Pollak could not recall the exact cost, other than that it was more than $16,000.
"Barkitecture," as it is known, is popular with architects and pet owners, though it doesn't always get buy-in from the dogs for which it is intended.
No dog ever sleeps in the 50-inch-high Hobbit-style wooden doghouse — the first one in this NYT slide show — carved from a log that graces the home of Barbara Dalhouse, president of the Roanoke Valley SPCA in Virginia. "The cats look in every now and then," Dalhouse told The Times. "And Lucy the beagle walks by. But they say, 'Uh-uh, we're couch people.'"
(If you get your cat a fancy house, he will prefer the box it came in. But that's another post.)
In recent years, luxury doghouses have become a popular fund-raisers. The creators usually donate their work, which is auctioned off for animal shelters or other charities. In Seattle recently, doghouse designers competed and had their work auctioned off to benefit the Seattle Humane Society and Seattle Children's PlayGarden. You can see the elaborate entries here, including a castle with a moat.
Is buying your dog a luxury home he will probably refuse to live in the epitome of conspicuous consumption? Interior designer Pollak says in The Times: "All I can say is that if you have the money, what's the difference between spending it on a pet house or on a piece of diamond jewelry?"
About Teresa Mears
Teresa Mears is a veteran journalist who has been interested in houses since her father took her to tax auctions to carry the cash at age 10. A former editor of The Miami Herald's Home & Design section, she lives in South Florida where, in addition to writing about real estate, she publishes Miami on the Cheap to help her neighbors adjust to the loss of 60% of their property value.
msn real estate is social
FIND YOUR DREAM HOME OR APARTMENT
WHAT'S YOUR HOME WORTH?
HOME IMPROVEMENT PROFESSIONALS
from our partners