$500 dream house demolished by mistake
An artist couple who bought a house at a tax auction in Detroit thought they could rehab it for $8,000 -- until they discovered it had been transformed into a pile of rubble.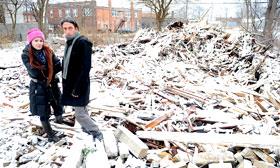 Kristine Diven and Micho Detronik thought they had found their dream house in Detroit, or at least as close to a dream house as you can get for $500.
But when they went to the home last month to secure it and take some measurements, all they found was a pile of rubble. The city had demolished their home, as well as 11 others an investor had bought at a tax sale.
"Instead of taking measurements for the boards we needed, we found our house in a pile," Diven told The Detroit News. "When we drove up, I thought what I was seeing couldn't be right. "In the past weeks, it's almost like being in mourning."
 
Post continues below
The 12 houses had been sold by the Wayne County treasurer in a tax foreclosure auction. But before the deeds were recorded, the homes were razed. Detroit is full of empty houses, and state and city officials have been working to demolish homes that aren't wanted or are dangerous.
County and state officials have apologized, refunded the couple's $500, said they won't be responsible for demolition and cleanup costs and offered them a chance at other abandoned houses that are available. But, so far, they have not found anything comparable to the house that was torn down.
The house was in the Morningside neighborhood of Detroit, adjacent to the affluent suburb of Grosse Pointe. The two artists had also bought the adjoining lot, with thoughts of creating a community garden. You can see a photo at The Huffington Post of what the house looked like before demolition.
"We were blown away that we could get a home like that," Diven, a photographer who owns a gallery, told the Model D online magazine.  "It had a new roof. The basement had no cracks in the foundation. There was no water damage. All it needed was new electric and two new tubs. We estimated it would take $8,000 to get it up in working order."
FIND YOUR DREAM HOME OR APARTMENT
msn real estate is social
WHAT'S YOUR HOME WORTH?
HOME IMPROVEMENT PROFESSIONALS