New-home construction hits 5-month high
Housing starts were up 3.5% in May from April, though worries persist about unsold existing homes.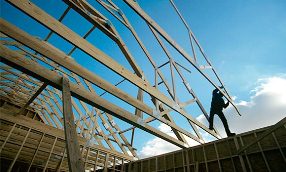 After plunging 10.6% in April, housing starts beat expectations and bounced back with a 3.5% gain in May from the previous month. Construction also was at its highest level in five months, according to Census Bureau and Department of Housing and Urban Development data released today.
Although that's somewhat good news for the summer building season, builders say they'd like to see more of it — much more of it, in fact, until their market expectations change. Builder confidence in June dropped to its lowest level since September 2010, after holding in place in six of the prior seven months, according to the National Association of Home Builders/Wells Fargo Housing Market Index. Its reading of 13 is a far cry from 50, which would indicate that just as many builders have a positive outlook about future sales as have a negative outlook. It last hit 50 in April 2006.
What do they blame? All those unsold homes, foreclosures and foreclosures-in-wait​ing, among other things.
"Builders are being squeezed by the continuing weakness in existing-home prices — against which they must compete — as well as rising material costs," NAHB Chairman Bob Nielsen said in a press release. "In addition to the ongoing impacts of distressed-property sales on home prices, appraisal values and consumer confidence, rising costs for materials such as roofing, copper, wallboard, vinyl siding and other components have made it extremely difficult to construct a new home and sell it at a price that covers the costs."
Post continues below
The Commerce Department will release May's new-home-sales statistics next week. Sales of new homes increased in March and April.
May's seasonally adjusted rate of 560,000 privately owned housing starts were a touch below the 580,000 logged in May 2010. Construction of single-family homes increased 3.7% in May, compared with April, while multifamily-home starts — which slid 28% in April after a strong performance in previous months — crept back up 2.9%.
According to Reuters, via The New York Times, construction of apartments and multiunit buildings could be the result of increased renter demand, as more potential and current homeowners turn to renting to wait out the current free fall in home values. A Reuters poll of economists says home prices may fall 5% this year, with a slight uptick predicted in 2012.
Meanwhile, as sales and construction sputter, construction-researc​h firm BuildFax provided more evidence that homeowners are sprucing up their own places, rather than placing them on the market. The BuildFax Remodeling Index shows remodeling activity in April was at the highest level since the index began in 2004. April also marked the 18th straight month in which the index the registered a year-over-year increase.
Are you building a new home or rebuilding part or all of your current one? Let us know in the comments below, and share your story on Facebook.
— Tony Stasiek is a producer/editor at MSN Real Estate.
FIND YOUR DREAM HOME OR APARTMENT
msn real estate is social
WHAT'S YOUR HOME WORTH?
HOME IMPROVEMENT PROFESSIONALS
more on msn real estate