Best cities to buy a home in 2012
Zillow analyzed income and home-price data to come up with a list of cities where now is a good time to buy. We've also got a lot of cities where it's still a buyers market.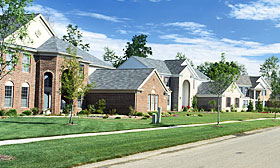 This year's mixed real-estate statistics serve to remind us that, yes, all real estate is local.
Former basket-case cities such as Phoenix and Miami are rising from the ashes, while cities such as Atlanta that initially didn't suffer precipitous drops in property values are continuing to see home prices drop.
Zillow looked at several key factors and came up with a list of the places to buy a home in 2012, plus a list of the cities where you can afford to bargain.
Post continues below
To create its list, the real-estate portal looked at housing prices compared with local incomes, home value trends, unemployment rates and whether buying makes more sense than renting.
The top city in Zillow's Best Places to Buy in 2012 was Grand Rapids, Mich., where home values have risen 4.8% since last spring and unemployment has fallen. The median home value in Grand Rapids is $108,000, making homes affordable on the city's median income.
The next two cities were Phoenix, where Zillow predicts home values will rise 6.5% this year, and Pittsburgh. "Phoenix is probably the best example of a hard-hit market that is showing signs of recovery," says Stan Humphries, Zillow's chief economist.
The other cities identified as the best places to buy in 2012 were:
Oklahoma City
Rochester, N.Y.
Dallas
Memphis, Tenn
Dayton, Ohio
To identify the cities where buyers have the upper hand, Zillow looked at listings with price cuts, median price cuts, foreclosure resales and the difference between list price and sale price.
These are the cities where you are likely to benefit from negotiating on price, but remember that these are averages and that any individual home could be well-priced at listing. Zillow's Best Places to Bargain for a Home are:
Rockford, Ill.
Punta Gorda, Fla.
Cleveland
Chicago
Sarasota, Fla.
New Haven, Conn.
Philadelphia
FIND YOUR DREAM HOME OR APARTMENT
msn real estate is social
WHAT'S YOUR HOME WORTH?
HOME IMPROVEMENT PROFESSIONALS
more on msn real estate