An Ikea dream house?
An Oregon modular-home company has created a one-bedroom prefab home predominately using Ikea products. It costs about $86,000.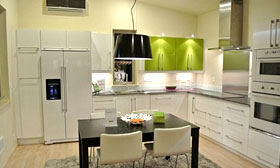 Ikea's sleek, modern furniture has its share of fanatics, who are willing to drive for hours to shop at one of the stores
Now those fans can buy a house outfitted in Ikea products — and they don't have to assemble it themselves.
The new Aktiv, based on the Swedish word for "active," is being sold by the Oregon firm Ideabox, which designs prefabricated housing with a Pacific Northwest accent.
Post continues below
"Think of it as your own personal Euro designer flat … only where you want it!" the company writes. "Every bit an Ideabox, from the energy efficiency to the cool assembly of materials, Aktiv by Ideabox truly is modern living made remarkably easy!"
Homebuyers can choose their components and finishes in an Ikea store. From order to occupation takes about eight weeks, Ideabox says, and a contractor oversees site preparation and the home's assembly.
You can see photos and a floor plan here. A completed home was shown at a recent Portland, Ore., home-and-garden show.
"We want our homes to be so rockin' cool that people just want them," owner Jim Russell said on the If It's Hip, It's Here blog. "No Birkenstocks, no flannel, no granola."
Although the house has a bit of a trailer look from the outside, the fact that Ikea Portland is collaborating with a modular-home company is a reminder that today's modular housing has a come a long way.
"Prefab construction is one of the best-kept secrets in America," author Sheri Koones told Inhabitat last year in an interview about "Prefabulous + Sustainable," her most recent of several books on prefab homes. Factory-built homes are greener, more efficient, sturdier and more cost-effective than site-built homes. In addition, many prefab manufacturers offer a limited 10-year warranty, which is much more than any site builder provides."
Are you sure you want to delete this comment?
About Teresa Mears
Teresa Mears is a veteran journalist who has been interested in houses since her father took her to tax auctions to carry the cash at age 10. A former editor of The Miami Herald's Home & Design section, she lives in South Florida where, in addition to writing about real estate, she publishes Miami on the Cheap to help her neighbors adjust to the loss of 60% of their property value.
msn real estate is social
FIND YOUR DREAM HOME OR APARTMENT
WHAT'S YOUR HOME WORTH?
HOME IMPROVEMENT PROFESSIONALS
from our partners