Listing of the Week: 'Steel Magnolias' home
The Louisiana house where the film was made in 1989 is a bed and breakfast. The original house was built in 1840 as a store.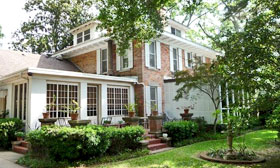 If you liked the home where Sally Field and her family lived in the 1989 film "Steel Magnolias," you now have a chance to live there.
The 6,000-square-foot home in Natchitoches, La., which operates as a bed and breakfast inn, is for sale for $1.175 million. That includes the business.
The historic home has six bedrooms and 6.5 baths and includes a separate carriage house. It is on the Cane River in the historic downtown district of Natchitoches, which is about 75 miles southeast of Shreveport.
Post continues below
Julia at Hooked on Houses has photos from the listing with photos from the movie. Some of the house hasn't changed much. The bedroom used by Field's character's daughter Shelby, played by Julia Roberts, still has pink striped wallpaper. The B&B calls it "The Shelby Room." The other rooms also are named after characters from the movie, and you can watch the film during your stay.
The original house dates to 1840, though it has been added to and modernized over the years. The carriage house was built in the 1940s and recently renovated.
According to the listing, which includes 96 photos, the main house was designed by the Italian architects Trizini and Solidini. Explore Natchitoches writes that it was built for Louis Dupleix as a store and that it served as a hospital during the Civil War. The house was moved from near the sidewalk to its current site in the early 1900s.
Highlights of the home, the listing says, are a Baccarat chandelier in the living room, marble fireplaces quarried in Italy and carved in France, and entrance doors from a Spanish cathedral. Also, "unique solid-core columns are made of pie-shaped bricks." 
Old oil-burning lamps converted to electric fixtures are in the bedrooms, and the home has original heart of pine floors, cypress trim salvaged from old slave cabins and walls that are five to seven bricks thick.
About Teresa Mears
Teresa Mears is a veteran journalist who has been interested in houses since her father took her to tax auctions to carry the cash at age 10. A former editor of The Miami Herald's Home & Design section, she lives in South Florida where, in addition to writing about real estate, she publishes Miami on the Cheap to help her neighbors adjust to the loss of 60% of their property value.
msn real estate is social
FIND YOUR DREAM HOME OR APARTMENT
WHAT'S YOUR HOME WORTH?
HOME IMPROVEMENT PROFESSIONALS
from our partners