Ready for a remodel? Top trends for 2011
Big, expensive remodels have gone by the wayside in favor of projects that will give you more bang for your buck.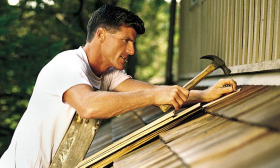 We're nearing the end of what's turned into a rough year for homeowners, with losses in home values expected to hit $1.7 trillion despite improving home prices at the start of the year.
Now, many homeowners who missed their chance to sell while the homebuyer tax credit boosted demand are preparing themselves to stay put for the long haul, and are looking at ways to improve their home both for their own enjoyment and for its eventual resale value.
Thinking about pursuing your own remodel? Ilyce Glink over at Moneywatch tells us what 12 of the top remodeling trends will be in 2011, based on a survey of builders and developers by the National Association of the Remodeling Industry:
1. Save money: Remodel your bathroom
Kitchen and bathroom remodels are always hot trends among homeowners, but in 2011 bathrooms will be even hotter because it's a less expensive project and easier to complete, since most homes have more than one bathroom.
2. Must-do remodeling projects
As ServiceMagic (an MSN Real Estate partner) found in its home remodeling and repair index for the third quarter that demand is high for maintenance projects around the home, many that homeowners have been putting off for years.
3. Warming up the house
Minimalist, white designs are making way for warmer tiles and earth tones, Glink writes:
The trend, however, is not rustic. Instead, it's a mash-up of earthiness and modern design. Judy Mozen, president of Handcrafted Homes Inc., says she is seeing people favor rooms that are more contemporary and calming, but are "still not totally contemporary."
4. Getting decked out
Hey, if you're going to be stuck in your home for a few more years than you had expected, you may as well give yourself a little more space to enjoy. The survey found that more homeowners are expanding their living space by building decks or adding outdoor pools.
5. Hiring a great contractor
With money tight, more homeowners are doing their homework, making sure they're hiring the right contractor for the job. Need help finding the right contractor? Read MSN Real Estate's "4 tips for hiring contractors."
Read the entire list of the top 12 remodeling trends for 2011 on Ilyce Glink's Home Equity post.
Are you sure you want to delete this comment?
FIND YOUR DREAM HOME OR APARTMENT
msn real estate is social
WHAT'S YOUR HOME WORTH?
HOME IMPROVEMENT PROFESSIONALS