'Sharpie parties' deface foreclosed homes
Summoned by social media, gangs of young people vandalize houses during alcohol-fueled gatherings.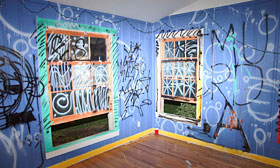 Vandalism of vacant homes has been one of the curses of the foreclosure crisis.
In California, authorities are reporting another rash of what are called "Sharpie parties," big boozy parties in which young people deface vacant homes.
At least a few of the gatherings, named for a brand of markers, apparently were inspired by the movie "Project X," in which a party gets out of hand and results in damage to one of the hosts' home. We didn't find any references to foreclosure or Sharpies in the descriptions of the film, and we're not sure how the vandalism got that label.
Post continues below
"The Sharpie party is the newest twist here," Larry Morse, the district attorney in Merced County, Calif., told Reuters. His office has investigated at least six such events.
The parties are announced on Facebook and Twitter, which helped police in Merced County arrest three young men earlier this month who are accused of doing major damage to a home from which the family of one man had been evicted.
"For someone to commit these flat-out destructive crimes on a property, for them not to think they were going to get caught eventually is just ridiculous because of the number of people that are out there taking video and posting pictures," Wayne Hutton, an investigator with the Merced district attorney's office, told The Merced Sun-Star.
The vandalism isn't confined to writing on the walls. Revelers have also smashed holes in walls, trashed carpets, pulled off doors, destroyed appliances and left other damage. While this doesn't appear to be a widespread trend, a handful of other such parties caused serious damage to foreclosed homes in Florida, Texas and Utah.
Nationwide, thousands of foreclosed homes have been damaged by acts of vandalism that didn't involve parties, social media or catchy names. Some of the damage has been done by owners angry over the foreclosure.
FIND YOUR DREAM HOME OR APARTMENT
msn real estate is social
WHAT'S YOUR HOME WORTH?
HOME IMPROVEMENT PROFESSIONALS
more on msn real estate