Pending home sales rose in February but not much
The latest set of housing statistics agrees with all the others: There is no clear signal of recovery yet for the housing market.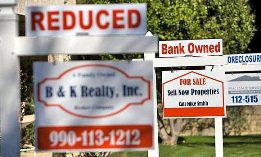 Pending home sales rose in February, but not enough to make up for the decline the month before.
The National Association of Realtors reported that the index of pending home sales rose 2.1% in February, to 90.8, after falling 2.8% in January. That's down from 98.9 in February 2010, when a tax credit for homebuyers was in effect. The index measures contracts signed for homes rather than closed sales. An index of 100 is considered healthy.
This latest set of housing statistics, like all the other statistics released this month, indicates that the housing-market recovery is not yet in sight. New home sales in February plunged to a record low, and housing starts were at their lowest level in two years. Sales of existing homes also plummeted.
The February 2011 results varied by region, with the Northeast showing a 10.9% decrease from the previous month, and the other regions showing an increase: 4% in the Midwest, 2.7% in the Northeast and 7% in the West. The West showed a slight increase over February 2010, 0.6%, but the other regions showed a decrease: 18.4% in the Northeast, 15.9% in the Midwest and 5.3% in the South.
"The foreclosure overhang is oppressing the industry," Ken Mayland, president of ClearView Economics, told Bloomberg. "All this is keeping a lid on the market even though affordability is terrific. This will be another sad year."
Post continues below
Homes are at their most affordable prices in years, down to 2002 levels in some markets. But first-time homebuyers, who make up 40% to 45% of buyers in a healthy market, aren't stepping up to buy this year.
Job insecurity is keeping many out of the market. First-time homebuyers are facing tighter lending standards, a requirement for bigger down payments and competition for lower-priced properties from investors paying cash.
USA Today quoted real-estate agent Jerry Abbott of Stockton, Calif., who said he recently had seven offers for one listing: one cash, two with 20% down payments and four seeking FHA mortgages, which are popular with first-time buyers because the Federal Housing Administration allows buyers to put as little as 3.5% down. "The seller didn't even consider the FHA" offers, Abbott told USA Today.
NAR economist Lawrence Yun cautioned against putting too much stock in month-to-month data, noting that the pending-home-sales index has risen since the record low of 75.9% in June.
"Month-to-month movements can be instructive, but in this uneven recovery it's important to look at the longer-term performance," Yun said in a news release. "Pending home sales have trended up very nicely since bottoming out last June, even with periodic monthly declines. Contract activity is now 20% above the low point immediately following expiration of the homebuyer tax credit."
This is not anyones business but the buyers of the house.  They pay for it , so be it.  As long as it is not breaking the law , and  a very high 5 of complainers are just jealous.  So get off their rears and go earn the money and build your dream home.   This is America and you have the right to pursue happiness.
Are you sure you want to delete this comment?
FIND YOUR DREAM HOME OR APARTMENT
msn real estate is social
WHAT'S YOUR HOME WORTH?
HOME IMPROVEMENT PROFESSIONALS
more on msn real estate