Turn foreclosed property into urban garden?
Milwaukee is proposing to use foreclosed homes and vacant lots to increase residents' access to fresh food by creating gardens.
Post begins below video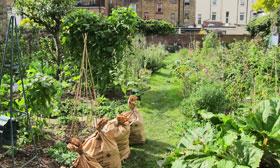 Milwaukee has a new idea to combat foreclosures while improving its residents' diets: Encourage urban homesteads.
The city has entered its proposal into a competition, Bloomberg Philanthropies' The Mayors Challenge, which will award $5 million to one city and $1 million each to four others for projects that offer bold solutions for problems facing many cities. (Editor's note: Since the original publish date, Milwaukee has been named a finalist for the prize.)
Milwaukee Mayor Tom Barrett wanted his city's submission to include food security and foreclosures, two issues that are not usually tackled together.
"Ours is a big idea — a vision for changing how cities approach foreclosed properties while simultaneously offering a comprehensive plan to improve diet for those facing nutritional shortcomings and poor health," Barrett wrote in an opinion piece in the Milwaukee Journal-Sentinel.
This is how the program would work:
The Post-Industrial Urban Homestead Act, proposed by Gretchen Mead of the city's Victory Gardens Initiative, calls for people who are unemployed or who are facing foreclosure to be given access to foreclosed homes and vacant lots, plus the resources they need to grow their own food there, as well as food for others. After successfully maintaining their homesteads for five years, while encouraging others to do the same, they would earn the right to keep the property.
"During the Victory Garden Movement of WWII, citizens using their own effort, knowledge and urban land grew 40% of our city's produce. Communities rallied together to grow, preserve and share fresh fruits and vegetables," Meade wrote in her proposal. "We are again in time of hardship. Inaccessibility of high-quality, nutrient-dense foods, economic insecurity, natural resource depletion and deep apathy related to the outsourcing of community wealth leave the people of Milwaukee subject to multi-generational nutritional starvation and the inability to keep and maintain our beautiful, historic neighborhoods."
The foreclosed properties would be open not only to people who wanted to live on them, but to entrepreneurs who wanted to create community gardens, kitchens or cafes, teach cooking classes, host potlucks or build a place for community picnics, Barrett wrote in his op-ed. Milwaukee has about 600 vacant, foreclosed homes and about 3,000 vacant lots.
What do you think about Milwaukee's urban-homesteading proposal? Would it be a good move in older cities with an excess of vacant, foreclosed properties?
FIND YOUR DREAM HOME OR APARTMENT
msn real estate is social
WHAT'S YOUR HOME WORTH?
HOME IMPROVEMENT PROFESSIONALS
more on msn real estate