Retirees don't want senior communities
Baby boomers and older Americans are looking, by choice and by necessity, at different retirement-housing options.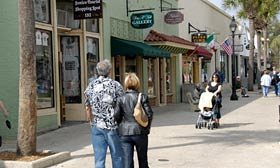 Baby boomers and seniors are looking at a number of options for places to live in retirement, but they rank traditional senior-living communities toward the bottom of the list.
According to Housing in America – The Baby Boomers Turn 65, a new report from the Urban Land Institute, more older Americans prefer to age in place or are stuck with homes they can't get rid of, forcing them to stay put in retirement.
More than half of U.S. residents over 65 already live in the suburbs, which is likely to create some naturally occurring senior communities in those suburbs, as well as demands on municipalities to provide support services such as transportation for older residents.
Seniors who move are drawn not to the exurban retirement communities of the past but to cities and suburban "town centers," near their grown children, friends, work and services.
"Leading-edge boomers will not settle gracefully into quiet retirement and move into traditional seniors housing communities for years, if they ever do," John K. McIlwain, senior resident fellow for housing and the author of the report, said in a news release.
His report divided older Americans into three categories: Leading-Edge boomers (those born between 1946 and 1956), the Silent Generation (ages 67 to 85) and the Greatest Generation (85 and older).
"The combination of the Leading Edge boomers reaching 65 with expectations of a longer life than ever before, and the fact that many of the Silent and Greatest generations are running through their limited retirement savings — combined with a continuing reduction in federal and state resources for housing subsidies — is leading to a coming crisis in U.S. housing for those over 65," McIlwain said in the news release. 
In addition to staying in their suburban homes or moving to downtown cores, retirees also are exploring other types of living arrangements, the report says. Those include:
Living in

college towns

, near children and grandchildren, and participating in activities on campus.

Mobile homes.

Co-housing and communal living.

Multigenerational housing.

Retirement communities for people with shared interests.
FIND YOUR DREAM HOME OR APARTMENT
msn real estate is social
WHAT'S YOUR HOME WORTH?
HOME IMPROVEMENT PROFESSIONALS
more on msn real estate