50 years of James Bond style, inside and out
To mark the anniversary of the iconic spy films, several websites have put together some of the best locations and interiors.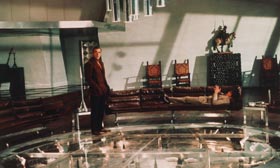 One of the things that distinguishes James Bond is his style. That style carries over into the environments used in each Bond movie. The latest installment, "Skyfall," opens Nov. 9.
In honor of the 50th anniversary of the first Bond film ("Dr. No," 1962), several websites have rounded up locations that epitomize Bond style – real venues that appeared in the films and memorable stages sets.
Of the 22 locations that made Curbed's list of the films' best locations, only two are in the United States.
Post continues below
The Elrod House in Palm Springs, Calif., was just 2 years old in 1971 when it hit the silver screen in "Diamonds Are Forever" as the home of a reclusive billionaire where Bond battled two assassins in bikinis.
The modern home was designed by California architect John Lautner for designer Arthur Elrod, who said, "Give me what you think I should have on this lot."
He ended up with a futuristic home carved into the rock in the hills above Palm Springs. A massive, domed concrete roof covers the living room and part of the deck of the indoor-outdoor pool. You can see a floor plan with photos at the Elrod House website.
According to Visit Palm Springs, "Diamonds" set designer Ken Adams said he knew the house was right for the film the moment he saw it. His comments: "I said, 'This as though I designed it. I don't have to do anything.' … It was a reinforced concrete structure, very modern and fabulous."
The home is owned by a real-estate investor and is occasionally opened for fundraisers and tours. The owner put it on the market for $13.89 million in July 2011, but it was taken off the market toward the end of the year.
The other real U.S. location in the Curbed list is the iconic Fontainebleau Hotel in Miami Beach, Fla., designed by Morris Lapidus and built in 1954. That property, which underwent a massive, $1 billion renovation in 2008, appeared in the 1964 film "Goldfinger."
Architectural Digest rounded up its list of favorite sets from the 23 Bond films. The Elrod House is the lead photo.
Are you sure you want to delete this comment?
FIND YOUR DREAM HOME OR APARTMENT
msn real estate is social
WHAT'S YOUR HOME WORTH?
HOME IMPROVEMENT PROFESSIONALS
more on msn real estate