Listing of the Week: Hines Ward's dream house
Just weeks after the Pittsburgh Steelers announced they would cut him, the wide receiver has listed his custom Atlanta house for $7.5 million.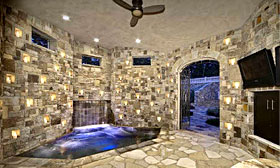 Hines Ward is a man of many talents. He plays football, he dances with the stars and he has a flair for home design.
But just a few weeks after the Pittsburgh Steelers announced they would release the wide receiver, Ward has put the Atlanta dream house he helped design on the market. Asking price is $7.5 million.
The 12,835-square-foot home is on just over two acres in an affluent neighborhood of Sandy Springs, Ga., where mansions sit on large lots on hilly roads. Hines paid $1.025 million for the property in 2006 and then assembled a team to build his dream home.
Post continues below
"Before I built my dream house, I spent years clipping pictures from magazines," Ward told Architectural Digest, which has a slide show. "I watch design shows on TV; I make mental notes wherever I go — friends' places, hotels. You can be amazed at what you pick up just by paying attention."
According to Architectural Digest and a subsequent story in Atlanta Magazine, Ward likes modern architecture but wanted a home that would fit in with the more traditional style in Atlanta. He also wanted it to be cozier than your run-of-the-mill, giant celebrity house.
"I find houses that are all modern to be way too cold," Ward said to AD. "I wanted my place to look as though it had been built now but to have a classical feel. Above all, I wanted it to be comfortable and particular to my taste and interests."
And, as he told Atlanta Magazine: "I wanted my house to be like a W Hotel."
The home has eight bedrooms and 8.5 baths, and there is a separate garage apartment where Ward's mother lives. The home also has an elevator, security and entertainment systems throughout the house, a billiards room, poker room, media room, basketball court and resort-style pool. You can see more photos here.
The house also has a trophy room, designed specifically to house the trophies and mementos of Ward's years in the NFL. That room includes a re-creation of his Pittsburgh Steelers locker.
"I'm proud of the whole house, but this room is special," Ward said to AD. "It's where I can reflect on my adventures and my life. As my son grows older, it will be a way for him to know me better — me and my past."
FIND YOUR DREAM HOME OR APARTMENT
msn real estate is social
WHAT'S YOUR HOME WORTH?
HOME IMPROVEMENT PROFESSIONALS
from our partners