New Yorkers celebrate old neighborhoods on Facebook
Former residents celebrate their childhood homes and, in some cases, bemoan change. Natives of Brooklyn are especially active.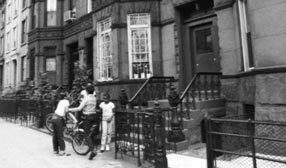 If you have an active neighborhood association, you may get updates on Facebook.
New Yorkers are taking neighborhood sharing on Facebook a step further, uploading old photos of their neighborhoods and posting thousands of comments.
"It's like we're all sitting around on lawn chairs on the sidewalk in summertime, laughing and telling stories," Maria George, 47, a former resident of Williamsburg, Brooklyn, told The New York Times about her participation in "The Neighborhood: Who Says You Can't Go Home?"
Kathy LaPolla DeStefano was happy to leave Williamsburg in 1980. She's now an elementary schoolteacher near Fort Lauderdale, Fla.
She's discovered through Facebook that she can go home again, back to the Williamsburg of her childhood.
"I'll be up commenting on people's posts until 3 in the morning," DeStefano told The Times. "I'm like, 'Kathy, you have to stop this!'"
Post continues below

New Yorkers have started popular Facebook pages celebrating the past in a number of neighborhoods. Brooklyn, which has undergone substantial gentrification in recent years, has inspired a number of sites. If you're from that area and want to connect with old neighbors, The Times has links to some of the Facebook sites.
Neighbors from other cities probably have Facebook pages and fierce loyalties as well.
But not all neighborhoods elicit the same strong feelings. I can't think of a dozen things to say about the suburban tract-house neighborhood where I grew up, let alone thousands of comments, as some of the New York pages have drawn.
"The point about the old New York City neighborhoods is that they provided real social cohesion," Mitchell Moss, a professor of urban policy and planning at New York University, told The Times. "People shared responsibilities for watching each other's children, or for keeping an eye on the property. And though new trends in urbanism try to recapture those old communal feelings, you can never re-create what emerged organically."
Is your old neighborhood worth a Facebook page? What about your current neighborhood?
FIND YOUR DREAM HOME OR APARTMENT
msn real estate is social
WHAT'S YOUR HOME WORTH?
HOME IMPROVEMENT PROFESSIONALS
more on msn real estate