Why aren't homes built to withstand tornadoes?
The slight probability of an individual house being hit by a devastating twister is too small to make it worth the cost. That's not the case for earthquakes and hurricanes.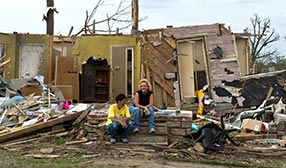 Looking at homes reduced to collections of rubble by the recent string of tornadoes raises a question: Why aren't homes built to withstand tornadoes?
The answer, surprisingly, is probability. And cost, of course.
The chance of a devastating tornado hitting any one home is so small that it's not considered economically efficient to require all homes in the tornado belt to be built to withstand a twister. The chance of any one home being affected by an earthquake or hurricane is significantly greater, which explains why building standards are higher in earthquake- and hurricane-prone areas.
"In some areas of California, earthquakes happen tens or hundreds of years apart, and they affect a tremendous area with a lot of properties," Tim Reinhold, senior vice president for research and chief engineer at the Institute for Business and Home Safety, told Life's Little Mysteries. "But for a tornado hitting a particular location in Tornado Alley, you're dealing with return periods of thousands of years."
Most homes in the United States are built to withstand 90-mph, though Florida and North Carolina require stricter standards for hurricane resistance.
Post continues below
Even those standards are not strong enough to withstand the strongest tornado, which can bring 250-mph winds.
USA Today explains the challenge of making a home tornado-resistant, citing a report from the Wind Science & Engineering Research Center at Texas Tech University:
For a home to be "tornado-proof," according to a wind research center online report, the walls, roof, windows, doors and garage doors would have to be "missile-resistant" to halt penetration by flying debris, and the connections of the structural elements would need to be capable of withstanding 250 mph wind pressures.

Additionally, the connections for long-span roofs and tall walls to transfer the loads induced by a 250 mph wind would have to be 7½ times stronger than those routinely required by today's codes, the wind research center reports.

"Realistically speaking, it is not practical, much less reasonable, to build a tornado-proof house," the report notes.
There are things you can do to protect your home from a lesser tornado, including many of the measures required in Florida and other coastal states for wind resistance: stronger garage doors, impact-resistant windows and stronger roof fastenings, for example. If you're building new or doing a major remodeling job, some of these features can be added for a small cost.
Texas Tech has information on lots of resources, and the Institute for Business and Home Safety also has information on measures you can take to strengthen your home against tornadoes, earthquake and hurricanes.

Yes,Dome houses half in the ground is the way to go folks.Tornados would just go around them with no damage.But if wee keep building homes with square corners and flimzy roofs it will continue to happen timme after time.We should have new building codes for tornado alley.All dome concrete homes.Insurance cost would go way down.The homes in flood zones should be built on poles that can raise the home.California homes can be built to with stand any earth quake.Why arent we doing it now?
I have a variety of information and links to experts, government information, companies, and organizations on my own website, at EFTornadoSafeHome. [This Comment location rejects URLs, sorry] I just added contact information regarding tornado-resistant doors and windows this morning. It's not hard to achieve EF3 resistance in rectangular construction. Reinforced concrete is the key. For EF5 resistance, the word is - though I can't say from my own experience - Monolithic Dome is the best answer. I've been studying this topic for decades and am serious about collecting and sharing what seems to be quality information about reliable choices. While it's true that the probability of a strong tornado hitting any one building in its lifetime is slim to none, the trouble with making this bet is that if you lose, you tend to lose big. It's a hassle, if nothing more. And: when you use reinforced concrete with adequate insulation, you will save money all year round on heating and cooling costs. Why argue against that?

I designed a house many years ago, that could withstand hurricanes, floods, fires, tornados, with only damage to the roof, if at all. I tried for years to get someone interested - nothing. I never wanted any money for it, I just wanted to save lives and property. The cost is ridiculously low. One prime example, is areas that are prone to flooding every year (ie., Red River). My "hurricane house" would save property, and possibly lives. No one's interested. I guess it's more profitable to fix damaged homes, or build new ones, and dump the cost on the insurance companies.  
Are you sure you want to delete this comment?
FIND YOUR DREAM HOME OR APARTMENT
msn real estate is social
WHAT'S YOUR HOME WORTH?
HOME IMPROVEMENT PROFESSIONALS
more on msn real estate