Listing of the Week: Monastery turned mansion
Maryland home with sweeping river views was built for an arms dealer in 1922 and then served as a home for monks. The current owners did a major renovation.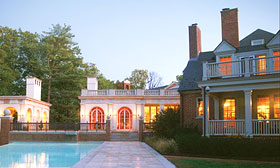 If you're looking for a home with 27 bedrooms and confessional booths, you're too late.
The most recent renovation eliminated about 20 bedrooms and some other features, including the confessionals. But the owners of this 26,000-square-foot home on 23 wooded acres overlooking the Severn River in Annapolis, Md., did take a house they thought was a teardown and restore it to its original Georgian Revival splendor.
Steve and Maxine Phillips, who bought the house for $2.5 million in 2002, are asking
$32 million for the property.
Post continues below
With their children grown, the couple is ready to downsize, listing agent David DeSantis told the Baltimore Business Journal. Steve Phillips is the founder of Phillips Seafood.
Built in 1922 for an arms dealer, the brick structure began its life as a single-family home, albeit one with illegal guns in the basement. In the 1940s, it was converted into St. Conrad Friary, owned by the Catholic Church and home to as many as 60 monks. It was in that era that a dormitory wing was added to create the total of 27 bedrooms. The monks moved out in the 1970s.
When the Phillipses bought the house in 2002, it had been vacant for about 30 years, unless you want to count a family of raccoons.
The couple initially planned to tear down the house but found it in surprisingly good structural condition.
"We thought we'd buy it for the land and tear it down," Maxine Phillips told Home & Design magazine. "But as we started going through the house we found little hidden elements to it, and the history captured our fancy. It turned out to be in shockingly good shape structurally, too. We thought, 'This building wants to be here. We shouldn't tear it down.'"
So they renovated instead, engaging architect Charles Anthony to bring the house into the modern era, even adding some Asian touches, while retaining its historic charm. The project took about six years.
They ended up with seven bedrooms and eight baths, according to the listing, plus a ballroom, indoor pool and spa, wine cellar, secret vault, a guest wing, an Asian tea house, a 60-foot infinity pool, a nine-car garage and a six-vessel boat dock.
If you think this sounds like a really big and expensive house for Maryland, you're right. DeSantis told the Baltimore Business Journal that he believes the deal would the "biggest residential sale in the mid-Atlantic" in at least the past 15 years.
About Teresa Mears
Teresa Mears is a veteran journalist who has been interested in houses since her father took her to tax auctions to carry the cash at age 10. A former editor of The Miami Herald's Home & Design section, she lives in South Florida where, in addition to writing about real estate, she publishes Miami on the Cheap to help her neighbors adjust to the loss of 60% of their property value.
msn real estate is social
FIND YOUR DREAM HOME OR APARTMENT
WHAT'S YOUR HOME WORTH?
HOME IMPROVEMENT PROFESSIONALS
from our partners