Home prices keep creeping up
There may be hope for the housing market yet: June's prices are up 2.3% over May and 0.5% over June 2011.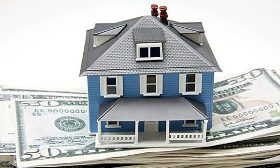 For the fifth straight month, home prices have shown a marked increase, according to the S&P/Case-Shiller Home Price Index released today (PDF).
Case-Shiller's 20-city survey showed a 2.3% increase in home prices in June, compared with May, and a 0.5% gain from June 2011. The year-over-year uptick was the first for the index since November 2010.
The 10-city index logged a 2.2% increase from May and a 0.9% increase from June 2011.
Post continues below
On a larger scale: Prices in the second quarter were up 1.2% from the first quarter of 2011, the first annual increase for quarterly prices since summer 2010. Prices also showed a 6.9% gain from the first quarter of this year.
Earlier this month, the National Association of Realtors reported that home prices in the second quarter posted their largest gain in six years.
It's good news — albeit the kind that may just trickle in, Zillow chief economist Stan Humphries told NBCNews.com. "The overall market is healing, albeit at a frustratingly slow pace," he said.
Although we can attribute the monthly and quarterly gains to seasonal factors, the annual increases may be the result of two things. One, housing inventory is down to a 6.4-month supply from 9.3 months a year earlier, so demand for good homes, especially lower-priced ones, may be higher.
Two, as The Wall Street Journal's Nick Timiraos wrote yesterday, distressed properties — foreclosures, short sales and bank-owned homes — are disappearing. While these bargain homes comprised 50% of the market in 2009, that share has fallen — and these low-priced sales are no longer dragging down regional and national price numbers.
Timiraos wrote:
In May 2012, around 25% of all homes were distressed sales, down from 31% one year earlier, according to Goldman [Sachs]. Moreover, Goldman estimates that banks are losing less money on distressed sales than they have in the past, in part because banks are pushing short sales more aggressively. The average distressed home sold at a 20% discount to comparable nondistressed homes, an improvement from discounts of 25% to 30% earlier in the crisis.

With distressed homes yielding smaller discounts and fewer distressed sales coming on the market, home prices have stopped falling.
The data are especially telling in areas hard-hit in the foreclosure crisis. Prices in Phoenix, for instance, are up 13.9% from June 2011. In Detroit, they're up 2.5% from June 2011 and 6% from May.
There's still room for improvement, however — especially in Atlanta, where prices are down 12.1% from June 2011, and Las Vegas, where prices are down 1.8% year to year.
"We seem to be witnessing exactly what we needed for a sustained recovery: monthly increases coupled with improving annual rates of change," David M. Blitzer, S&P index committee chairman, said in a release. "The market may have finally turned around."
When will this positive housing news start driving larger economic gains? Not quite yet: Economic growth was down to 1.5% in the second quarter, and consumer confidence in August reached its lowest level since November, according to today's data from the Conference Board.
— Tony Stasiek is a producer/editor at MSN Real Estate.
About Teresa Mears
Teresa Mears is a veteran journalist who has been interested in houses since her father took her to tax auctions to carry the cash at age 10. A former editor of The Miami Herald's Home & Design section, she lives in South Florida where, in addition to writing about real estate, she publishes Miami on the Cheap to help her neighbors adjust to the loss of 60% of their property value.
msn real estate is social
FIND YOUR DREAM HOME OR APARTMENT
WHAT'S YOUR HOME WORTH?
HOME IMPROVEMENT PROFESSIONALS
from our partners