Fighting blight by buying the foreclosure next door
Faced with the prospect of vacant, abandoned houses bringing down their property values, neighbors are buying and fixing the homes themselves.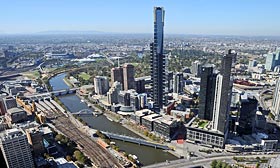 In South Bend, Ind., neighbors are taking the foreclosure crisis into their own hands.
Faced with the prospect of vacant and abandoned homes ruining their neighborhoods, they have embarked upon their own personal urban renewal projects: buying vacant homes and fixing them up themselves.
This is easier to do in South Bend than it would be in some other cities because the vacant properties are being sold for such low prices, as little as $750.
Post continues below
"The goal is to not have another great house torn down or turned over to a slumlord," Joan Downs-Krostenko told The New York Times. Downs-Krostenko is a history professor at Indiana University and president of a group that incorporated to buy a historic, 3,000-square-foot Queen Anne home for $9,500. "Your quality of life, property value and security are directly affected by the condition of your neighbor's house. So we are here to take care of our neighbor's house."
Downs-Krostenko is one of half a dozen neighbors who banded together to buy and restore the home, which they hope to sell for $85,000. They want to use the profits to save other abandoned homes. Downs-Krostenko also bought two other vacant homes, including the one next door to her house.
The Times reports:
Residents in neighborhoods that make up the Near Northwest and West Side — treasure-troves of vernacular architecture — describe what is happening to help solve the abandoned property problem as nothing short of "a movement." Almost everyone knows someone who bought a deteriorating property on his or her block, with civic duty being part of the financial calculus.
Among other cases of neighbors buying property to rehab highlighted in the Times story:
Kathy and John Oxian bought three vacant homes on their block at tax sales, including one for $750.

Connie and Tom Tooley bought a vacant lot from the city for $25 and want to create a pocket park.

Former Mayor Stephen Luecke bought the house two doors down from his own, renovated it and rented it out.
South Bend is one of a number of Rust Belt cities where vacant and abandoned homes are a fallout of the foreclosure crisis.
"We've had this problem for a long time," Mayor Pete Buttigieg told The Times. "I think there's definitely an uptick in people's readiness to be part of the solution."
FIND YOUR DREAM HOME OR APARTMENT
msn real estate is social
WHAT'S YOUR HOME WORTH?
HOME IMPROVEMENT PROFESSIONALS
more on msn real estate