Not much hope for Obama's refinancing plan
If Congress agrees to the plan — and that's a big if — the impact on the housing market is likely to be limited, analysts say. It won't curtail foreclosures.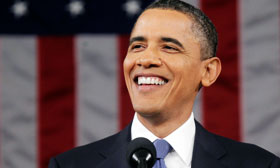 We wrote Tuesday about how the Republican candidates hadn't had much to say about solutions for the housing downturn. Some hoped that President Barack Obama would announce a major housing initiative during his State of the Union speech, but he didn't have much to say, either.
Obama's most significant comment on housing was the announcement of a refinancing initiative, but it's unclear how much impact it would have — if it is enacted at all.
Post continues below
"I'm sending this Congress a plan that gives every responsible homeowner the chance to save about $3,000 a year on their mortgage, by refinancing at historically low interest rates," Obama said in his speech. "No more red tape. No more runaround from the banks."
One key phase is "sending to Congress" — meaning there will be no refinancing plan at all unless Congress agrees. In this election year, it's tough to get Congress to agree on who is buried in Grant's tomb.
The administration has not released details of the proposal, so all the analysis up to this point is educated conjecture. Still, the consensus is that the program would not help a great number of homeowners and would do nothing for homeowners facing foreclosure.
Analysts interviewed by Housing Wire suggested the number of eligible homeowners would be 2 million to 3 million. Money would come from a fee charged to the big banks, possibly part of the pending settlement with the attorneys general, which Obama did not mention in his speech.
Ted Gayer, co-director of economic studies at the Brookings Institution, listed these groups that probably would not be eligible for the refinancing:
Homeowners who are behind on their mortgages. That's 4.1 million.

Homeowners who are not underwater on their mortgages, who can already refinance.
That leaves underwater homeowners who are not behind on their payments and whose loans are not backed by Fannie, Freddie or the FHA.
The Wall Street Journal, in a Q&A on the proposal, also noted that homeowners who refinance under this program would have to pay the usual fees.
Even if the program is enacted, it is unlikely to have much impact on the housing market, though it would put a little bit of money back into the economy.
"President Obama's latest proposal to help more households refinance to a lower mortgage rate is another policy that tinkers at the margins rather than striking at the heart of the problems that are holding back housing and the wider economy," Paul Dales, senior U.S. economist at Capital Economics, told Housing Wire.
Analyzing the proposal at the Trulia Insights blog, Jed Kolko, senior economist for Trulia, wrote:
And if this happens? It won't save the housing market. Letting borrowers refinance only if they're current on payments won't help people on the verge of losing their homes. And refinancing won't reduce principal, so underwater borrowers stay underwater. Refinancing is economic stimulus: It gives homeowners with mortgages more spending money. (I said the same thing last October about the expansion of HARP.)
The only other housing initiative mentioned in the speech was a proposal to investigate risky mortgage and securitization practices.

They need to offer interest only payments or sliding scale reduced principal portion on the amortized P & I payment for a few years.  Forget about payments being current, just roll any unpaid balance into the mortgage.  If the guy can't show how he can pay that, then foreclose on it, but it would bring an affordable payment to a lot of homeowners that otherwise can't make it right now.  And the full balance stays on the books until hopefully the market bebounds at least a little, and they guy can fix his income problem and start to pay the full P & I.  A $300k mortgage payment would only be $750/month.  I don't see how anyone is hurt by this, it could STOP a lot of foreclosures.

Time is the essence, If rates are  3% it would make a great impact on the real estate market, this is NOT a new idea,
it is on intelligent way to save lots of home owner from loosing their home, their savings would be more than $3,000 per year, those you purchased homes at  6,7 and 8% would see a drop in their payments by at least 5,000 to 6,000  dollars per year, why this would not work! to me is a smart way to get the real estate market going, not giving the money to the banks and in return they charge 6%. for using the tax payers money. Wake Up.
Get it done Mr.Obama
Are you sure you want to delete this comment?
FIND YOUR DREAM HOME OR APARTMENT
msn real estate is social
WHAT'S YOUR HOME WORTH?
HOME IMPROVEMENT PROFESSIONALS
more on msn real estate