Home sales slip in December, up 9.2% for 2012
Pent-up demand is driving sales, but inventory was down 21.6% for the year. Sales in 2012 were the highest since 2007.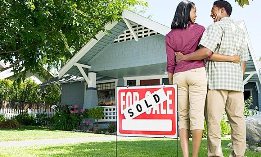 Sales of existing homes fell slightly in December, but prices continued to edge up, likely because inventory is so tight.
Sales were up 12.8% over last December but down 1% from November, according to data from the National Association of Realtors. Preliminary figures indicate that 2012 was the best year for home sales since 2007, with 4.65 million existing homes sold. That was 9.2% more than in 2011.
The number of homes for sale in December stood at 1.82 million, a 4.4-month supply at the current sales rate. That's the smallest supply since May 2005. A six-month supply is considered a balanced market. The number of homes for sale has fallen 21.6% since last December. The last time this few homes were for sale was in January 2001.
Post continues below
In the meantime, buyers who had been waiting for prices to quit falling are now entering the market, raising prices as they compete for scarce inventory.
"The number of potential buyers who stayed on the sidelines accumulated during the recession, but they started entering the market early last year as their financial ability and confidence steadily grew, along with home prices," Lawrence Yun, the NAR's chief economist, said in a news release. "Likely job creation and household formation will continue to fuel that growth."
He predicts both sales and prices will continue to rise in 2013.
The national median sale price was $180,800 in December, nearly unchanged from the $180,600 in November but up 11.5% from December 2011. Using preliminary numbers, the median sale price for 2012 was $176,600, up 6.3% from 2011.
Distressed properties made up 24% of December's sales, equally divided between foreclosures and short sales. That compares with 22% of sales in November and 32% in December 2011.
Are you sure you want to delete this comment?
FIND YOUR DREAM HOME OR APARTMENT
msn real estate is social
WHAT'S YOUR HOME WORTH?
HOME IMPROVEMENT PROFESSIONALS
more on msn real estate